PRCA Rodeo Now In Garden City
KSCB News - June 13, 2009 12:00 am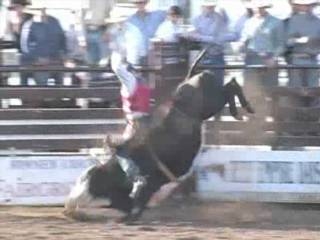 The Beef Empire Days PRCA Rodeo has arrived in Garden City. Thursday night fans filled the seats as they came to see the best in bull riding and steer roping.
Eight seconds on the bull ź?? thatź??s all it takes for a rider to earn a score. But itź??s a hard feat that few dare to withstand.
ź?ťIt's what I've always wanted to do since I was a little kid and I'll do it till I won't be able to do it no more,ź?ť said Jesse Bail.
Bail is one of 530 contestants to make his way to Gardenź??s rodeo this year. Riding bucking horses and bulls is the South Dakotanź??s specialty.
And itź??s a profession not many choose. The Professional Rodeo Cowboy Association says it only has 7,200 members in all of North America.
But the fans love watching man battling beast. Rodeo officials estimate as many as 10,000 people will come to see the three-day event. And those brave enough to step up into the arena have a chance to win a piece of the $120,000 in prize money.
The PRCA Rodeo continues through Sunday at the Finney County Fairgrounds.