Pratt Ends Seward's 53 Game Streak
Brock Kappelmann - February 9, 2020 9:48 am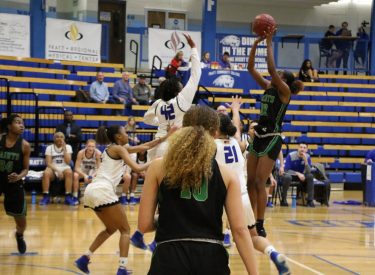 The Pratt Lady Beavers ended the 28 year streak.  Pratt beat Seward in women's basketball Saturday night in the  Pratt Beaver Dome 56-52 ending Seward's 53 game winning streak against Pratt.  It was Pratt's first win over Seward since Jim Littell's first year in 1991-92 when Pratt beat SCCC 53-52 in Pratt.
Seward simply didn't shoot straight.  The #12 Lady Saints shot just 25.9 percent from the field and were 4-26 from three point range.  Seward forced 23 PCC turnovers but turned it over 18 times.
Pratt led from the get go.  The Lady Beavers led 13-11 after one quarter.  They led 27-17 and 30-19 in the second quarter before a 32-22 halftime lead over SCCC.  Pratt jumped on Seward in the third quarter for leads of 36-24, 41-30, and led 45-34 after three quarters.  Seward made a fourth quarter push and cut the Pratt lead to 50-49 with :52.3 seconds left.  Pratt's Rachel Tippens hit a step back three with :17.3 seconds left for the dagger Pratt needed to make the score 53-49.  Carolina Szydlowska's three pointer made it 53-52 Pratt with 7.5 seconds left.  But Pratt made their free throws and the Lady Saints never scored again.
Vanda Cuamba had 15 points and 10 rebounds while Szydlowska scored 13.
Seward falls into second place for the first time this season with a record of 14-2 in the Jayhawk West and 19-5 overall.  Pratt is 14-11 and 8-8 in the Jayhawk West.  Seward hosts red hot Dodge City Monday night at 6 with Saints Shootaround at 5:45 on 107.5 and kscbnews.net.  The Bank of Beaver City is the game sponsor.