Charity Bucket Closed for Saints in El Dorado
Joe Denoyer - November 28, 2018 9:32 pm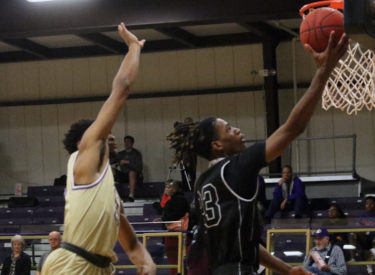 Poor free throw shooting cost the Seward County Saints men's basketball team a conference win against Butler, losing 60-53 in El Dorado. Seward moves to 5-2 overall and 0-1 in Jayhawk play.
After a hot start to the game, making baskets on their first two possessions, the Saints cooled off, making just two shots over the next four minutes. Despite the offensive struggles, the Seward defense clamped down, holding the Grizzlies to just ten points through the first ten minutes of the game, holding a 15-10 lead at the media timeout.
Marco Morency it a three to put the Saints up eight points, but the Grizzlies battled back, making it a four-point game with just under four minutes to play.  Seward held the Grizzlies to just one field goal over the final four minutes, while going on a 7-0 run over the final two minutes to take a 27-18 lead into halftime. Both teams struggled from the free throw line in the first half, with Seward shooting 20 percent (2-of-10) and Butler shooting 36.4 percent (4-of-11).
Seward had to wait until the 17:30 mark to score, with a teardrop floater coming from Devin Bethely to stop a 4-0 run by the Grizzlies.  The Saints had to wait another three minutes to score another basket, but the Grizzlies had already cut the lead to two at that point. Butler tied the game at 32 moments later.  Free throws continued to be an issue for the Saints as they started the half just 1-of-4 from the charity stripe. At the media timeout, the Saints trailed 40-38.
The Saints cut the deficit to one point on three different occasions, but the Grizzlies constantly had an answer. While Seward continued to struggle from the line, the Grizzlies found their stroke, hitting four of their first five shots from the charity stripe in the second half. The Grizzlies continued to stretch their lead, beating the Saints 59-53
Offense was hard to come by for the Saints, shooting just 33.3 percent (21-of-63) from the floor and 13.8 percent (4-of-29) from deep.  Free throws were the nail in the coffin, though, as Seward made just 7 of 24 (29.2%) from the charity stripe.
The Saints were led by Isiah Small (18 pts) and Marco Morency (13 pts). Small also finished with 10 rebounds to complete his first double-double of the season.
Seward will host Cloud County for the conference home opener on Saturday (Dec. 1) at 8:00 p.m. in the Greenhouse. Free tickets can be picked up at Wendy's. The game will be broadcast on 107.5 and kscbnews.net.