Point Of Rocks Might Move
KSCB News - January 23, 2014 8:40 pm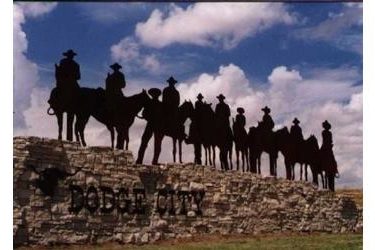 A landowner says Dodge City will have to move a longtime landmark on the western edge of the city if the state installs a 60-foot median when it widens U.S. 50.
The Kansas Department of Transportation wants to expand U.S. 50 to four lanes between Cimarron and Dodge City. The $69 million project includes the 60-foot median, or a second option of a 16-foot asphalt median.
The project would require removing parts of the Point of Rocks and adding a retaining wall.
Jack Fox owns the land where the "Point of Rocks" landmark sits. He told the Dodge City Commission Tuesday that the landmark, which is metal cowboy silhouette, will have to be moved if the 60-foot median is installed.