Poetry Coffee House Winners Announced
KSCB News - May 12, 2015 10:14 am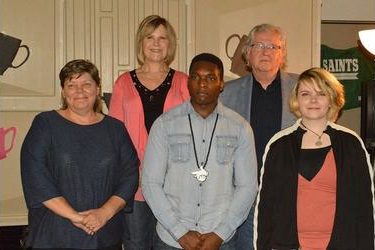 SCCC/ATS English instructors Bill McGlothing and Janice Northerns have announed the winners in the annual Poetry Contest. The High School winners are, Levi Whaler of Sublette, first place; Nathan Dowell of Liberal, second place; Shaycin Koehn of Sublette, third place.
Honorable mention award winners in the open category, Noemi Rodriguez of Liberal; Faith Miller of Liberal; Lindsey Woodbury of Beaver, Okla.; back row, Myron Perry of Liberal; Cedric Mitchell of Liberal.
Open category winners and Best SCCC/ATS Student Poem winner Teresa Wehmeier of Liberal, first; second place forfeited because winner did not attend; Joshua Juma of Liberal, third; Aiyana Moyer of Liberal, best student poem.