Pitching and Defense Sparkles as Saints Sweep 1st Place Barton
Brock Kappelmann - March 29, 2019 7:14 am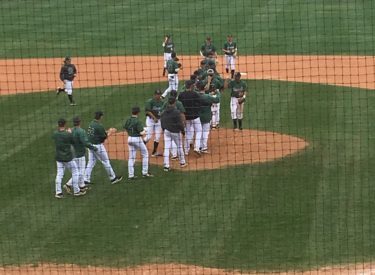 Seward's defense made the routine and sparkling plays behind solid work on the mound by the Saints pitching staff Thursday.  And after a team meeting Wednesday, the Seward County Saints put together their most impressive day this season.  The Saints swept first place Barton 2-0 and 4-2 Thursday afternoon at Brent Gould Field.
In game one, Tanner King took a no hitter into the seventh.  With one out in the seventh, two straight Cougars singled to break up the no hitter.  But Barton did not score.  The Saints manufactured a run in the second.  After a Benny Ayala walk , KP Werner bean ball, and Owen Martin bunt, Jose Caraballo hit a sac fly to right.  The Saints added a run in the sixth when Ayala ripped a double to left.  King struck out seven and walked one and faced the minimum of 18 hitters through six innings.
Seward won game two with more pitching and more defense.  Seward did not commit an error in either game and made several dazzling plays.  The Saints scored in the first when KP Werner singled home a run.  Joe Kuhn singled home a run in the fourth for a 2-0 lead.  Barton tied the game in the fifth with their first two runs of the day after 11 scoreless innings against SCCC pitching.  Seward regained the lead in the seventh when Cruz Shope lofted a home run over the right field wall.  A hustling Werner double set up an Owen Martin RBI single in the eighth for the 4-2 lead.  Cole Evans pitched six strong innings striking out seven and walking one.  Ryan Thomas pitched three scoreless innings for the win.  Ayala dazzled at third on a diving play to his left and a throw across his body on a Barton bunt.  Jose Caraballo made a great play in the hole to his right.
Seward is 16-14 overall and 8-6 in the Jayhawk West.  Barton is 20-9 and 9-5 in the KJCCC West. Seward plays at Barton on Sunday.  The game was moved due to weather.  The game begins at 1 and airs with Saints Dugout Show at 12:45 on 1270 and kscbnews.net.
Game 1 audio:
Game 2 audio: