Petty Takes Over LHS Basketball Position
Brock Kappelmann - July 12, 2017 7:18 am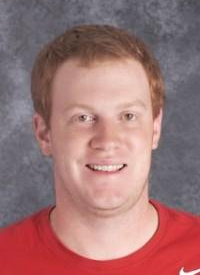 Ryan Petty, Liberal High School alumnus and Liberal native, will take the helm beginning the
2017-2018 season as Head Boys Basketball coach of the Liberal Redskins.
"We are very fortunate to have another alumni return to carry on the outstanding tradition of
Redskin athletics. Coach Petty has demonstrated a genuine passion for the game of basketball
and a dedication to helping the student-athletes of Liberal High School improve and succeed,"
Liberal High School Principal Ashley Kappelmann said.
Petty interviewed with a panel of building and district administrators, parents, fellow coaches,
and students. He was selected for the knowledge and dedication he will bring to the program,
as well as, his ability to develop character and sportsmanship among the athletes.
"Petty is was well prepared and I know he will make it a smooth transition for the basketball
program. He has a great rapport with all the other coaches and student athletes, and he will
continue to make the program better," Activities Director, Clairinda Weatherwax
Petty's experience in basketball is vast. He played basketball for Liberal High School from
2006-2009. Additionally, he was mentored by several highly respected Kansas high school
basketball coaches – Rod Briggs, Jeff Langrehr, and Scott Hinkle. He began his coaching
career assisting former LHS head coach Briggs at Lansing High School during the 2012-2013
season. There, he assisted the team to a 2nd place finish at the KSHSAA State Basketball
Tournament & a KAW Valley League Championship. Under the direction of head varsity Coach
Langrehr at Gardner-Edgerton High School, Petty served as the Head Freshman Coach during
the 2013-2014 season. His most recent three seasons, he has studied under Coach Hinkle as
an assistant and the Head JV Coach. At LHS, he assisted on two WAC Championship teams
and one state qualifying team.
""I am extremely excited to be named the head basketball coach at Liberal High School. It is a
dream come true to be the head coach of my alma mater," Petty said.