Petty Leaving Liberal
Brock Kappelmann - July 22, 2020 2:50 pm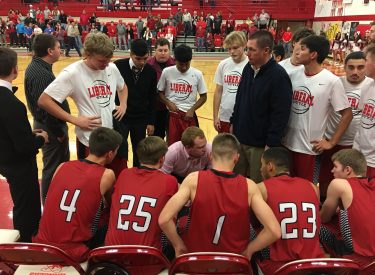 Liberal basketball coach Ryan Petty is leaving his post as head  boys basketball coach at Liberal to be head boys basketball coach at Augusta.  Petty led the Redskins to an 8-13 season in 2020, 10-11 in 2019, and 8-13 in 2018 for an overall record of 26-37 in three seasons. Petty was also recently named head girls golf coach at LHS. Here is the press release from LHS Athletic Director Nathan Smith.
Liberal High School will be looking for a new head boys basketball coach as Ryan Petty has resigned form his position as the head coach to accept the same position at Augusta High School. Petty joins Liberal native and Augusta athletic director Travis Olive.   Coach Petty led the Liberal basketball program for the past three years, compiling an overall record of 26-37.
Coach Petty said, "I want to thank USD 480 and Liberal High School for giving me my first head coaching job.  I will always be grateful for the opportunity.  A big thank you to our fanbase for all the support you provided me.  The Big House has one of the best atmospheres in all of high school basketball.  Liberal will always be my hometown and I wish them nothing but success. "
"Liberal High School thanks coach Petty for the hard work, sacrifice, and dedication to the program and the student athletes of Liberal High School demonstrated during his tenure as the leader of the boys basketball program. " Athletic director Nathan Smith said. "We wish coach Petty good luck at Augusta and know they are getting one of the great young coaches in the state."
The search for a new head coach will begin immediately.