Petty Joins Ithica Football Staff
Joe Denoyer - April 13, 2017 10:58 pm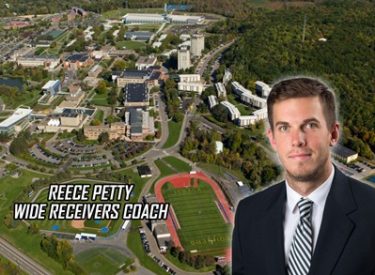 ITHACA, N.Y. – The Ithaca College football program has added another coach to its staff, as Reece Petty has been tabbed the wide receivers coach for the upcoming 2017 season. Head Coach Dan Swanstrom announced the hiring on Thursday.
Petty, who most recently coached at the University of Buffalo, inherits a returning receiving core that accounted for 72 receptions, 1,139 yards and 15 touchdowns from 2016.
At Buffalo, Petty was a graduate assistant with the offense and worked directly with the Bulls' receivers. He also served has a graduate assistant at Iowa State University from June 2014-December 2015. At ISU, he was responsible for the recruiting efforts in Wisconsin, Missouri and Kansas.
Prior to those two appointments, Petty was a strength and conditioning intern at the University of Kansas, his alma mater, for one year and was an assistant high school football coach in Lansing, Kansas for two seasons.
"I'm excited that Reece is joining our staff, and he has hit the ground running in the middle of spring practices," said Swanstrom. He has worked for and with some great coaches and he will do a great job developing and building our team going forward."
Petty was a student-athlete at Kansas from 2006-10 and earned a full scholarship for his fifth year as a wide receiver and special teams player. He played on two Bowl Game championship teams – the Orange Bowl during the 2007 season and the Insight Bowl in 2008.
He earned a Bachelor of Science degree in education from Kansas in 2010 and obtained a master's in educational leadership at Iowa State in 2016.