Performance Tax Would Cut Services Offered By Radio
KSCB News - February 18, 2010 12:00 am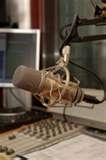 A tax on radio tunes could soon limit your listening options.
Local radio stations are fighting a proposed performance tax. The tax would make stations pay to play songs. Some artists and recording labels are lobbying congress to pass the bill as the industry struggles from the recession. But stations say they would simply have to stop playing as many songs.
The bill would make stations pay to play songs. Some of the money would go to record labels and some of the money would go to artists.
Stations say a tax could force them to cut services they provide listeners, such as news and weather. The charge may also cut down on the number of songs you hear when you turn on the radio.
Supporters say artists and labels deserve money when stations play their songs. The tax could also help support struggling record companies.
Several Kansas lawmakers have formed a resolution against the proposed tax. The bill is currently making its way through congress in Washington.