Penalties Costly in Redskin Loss
Brock Kappelmann - September 3, 2022 7:27 am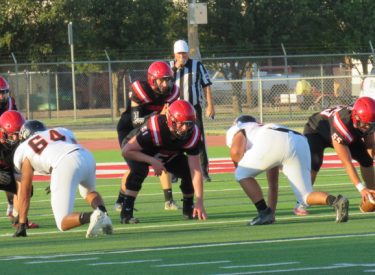 The Liberal Redskins had little issue moving the ball up and down the field.  They did have issues moving backwards with dirty laundry on the field after many penalties Friday night at the Gary Cornelsen Sports Complex.  Holcomb topped Liberal 34-20 in the first ever meeting between the two schools.  Liberal was penalized unofficially 11. times for  80  yards.  Many penalties were called after positive plays by the Redskins.  Liberal lost 129 total yards on penalties counting yards which would have been gained.   Meanwhile, Holcomb was only penalized three times for 25 yards.  Liberal gained 469 yards to Holcomb's 317 yards.
The game was scoreless after one quarter which Liberal otherwise dominated.  But penalties stymied Liberal's drives and they were unable to score.  Holcomb scored first when quarterback Damon Mesa raced 80 yards down the Liberal sideline for a touchdown at the 8:33 mark of the second quarter.  Liberal came back with a Trystian Juarez 29 yard run at the 7:33 mark.  But Liberal went for two and didn't get it.  Backup quarterback Keegan Johnson tossed a 10 yard touchdown to Damon Mesa with 21 seconds remaining in the half to make it 14-6.  A long Izzy Rotolo kick return set up Liberal toward the end of the half.  A Brooks Kappelmann completion to Rotolo at the nine set up Liberal with one more play of the half from the nine.  But the pass was tipped incomplete and the Longhorns led 14-6 at halftime.
Holcomb gashed Liberal's defense with the run on the first drive of the second half and Khai Cosner 30 yard run gave Holcomb a 21-6 lead after the PAT.   Liberal answered on the ground with a Trystian Juarez two yard run and got the two point conversion to make it 21-14 with 3:27 to play in the third.  Holcomb answered on Costner's two yard run with 9:19 to play to make it 28-14.  Brooks Kappelmann scrambled to the right and found Zayden Martinez for a 28 yard pass but Liberal missed the extra point after a penalty and it was 28-20.  Liberal's defense to a stop but Liberal fumbled the punt and Holcomb recovered on the Redskin 26.  Keegan Johnson found a wide open Manny Reyes after a play action fake for a 28 yard touchdown.
Trystian Juarez was the Epic Touch Player of the Game with 21 carries for  144 rushing yards and two touchdowns.  Brooks Kappelmann was 17-27 for 269  yards and a touchdown.  He rushed for 52 yards on   12 carries.  Liberal plays at 1-0 Emporia Friday night at 7pm on 1270, 92.3, and the KSCB and The Legend App.