PenAir To Begin Service To Liberal, Dodge City
KSCB News - July 5, 2016 3:11 pm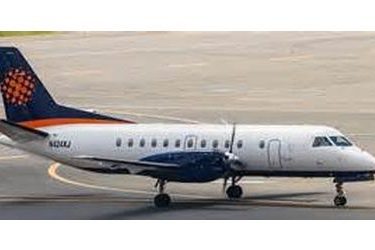 PenAir, one of Alaska's largest regional airlines, will initiate twice-daily service out of Denver to two new destinations in Kansas–Dodge City & Liberal–effective September 15, 2016. The addition of these destinations expands PenAir's network throughout the "lower 48" with existing service out of their hubs of Anchorage, AK; Portland, OR; & Boston, MA.
Effective, June 30, 2016, schedules and fares will be available at PenAir.com, on several online travel agency sites, and by calling PenAir's Central Reservations at 800-448-4226. Within the next month these fares and schedules will also be on PenAir's codeshare partner's website at AlaskaAir.com.
According to Danny Seybert, PenAir's CEO, "PenAir is thrilled to be launching new service out of Denver, CO.
We have been operating for over 60 years throughout Alaska, for the last several years in the Northeast U.S., and most recently the Pacific Northwest. The initiation of service between Denver and these Kansas communities will provide customers with our Alaskan brand of reliable customer service and the benefit of our connectivity to flights with our codeshare partner Alaska Airlines."
"We have begun meeting with community leaders from each of these new communities and we're finalizing a plan for an advertising campaign and on becoming involved in these local communities", said Dave Hall, PenAir's Chief Operating Officer. "All the communities have been especially supportive of PenAir and our plan to operate in their markets which are similar in size to those we serve in Alaska and in the Northeast U. S."
"The City of Dodge City is excited about this new partnership with PenAir providing air service to Dodge City and Southwest Kansas", stated Airport Manager Corey Keller. "Air service to Denver is very important in the continuing efforts to preserve and embrace the Essential Air Service program which provides rural America with access to the nation's air transportation network."
"The City of Liberal is also pleased about this new relationship with PenAir to provide air service to Liberal and southwest Kansas, says Debbie Giskie, Airport Manager. It is vital to our community and the region to have dependable air service to Denver where the traveling public can make connections to travel anywhere. We value the importance of the Essential Air Service program whereby air service is made available to the rural communities."
PenAir will enter each market with an introductory fare which can be found on the company's website at penair.com or facebook.com/penair.