Pedestrian Hit By Train In Guymon Identified
KSCB News - December 27, 2010 7:53 pm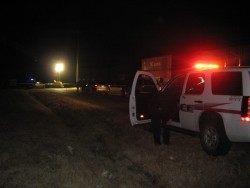 A 47-year-old Guymon woman was killed Christmas Eve after being struck by a train, authorities said.
The accident occurred late Friday night at around 11:35 on the train tracks just north of the 4th St. and Ellison crossing.
Police explain that 47-year-old Rhonda Grisham appeared to be on the railroad tracks waving at the train and attempted to jump out of the way at the last moment and didn't make it.
The accident did have an eyewitness and that's how police were notified of the accident.
Nearly all rail crossings throughout the city were blocked for several hours, awaiting the arrival of a medical examiner. The only tracks open were SE 5th St. and Hurliman Rd.