Panhandle State Rodeo Leads Standings
KSCB News - March 27, 2014 1:29 pm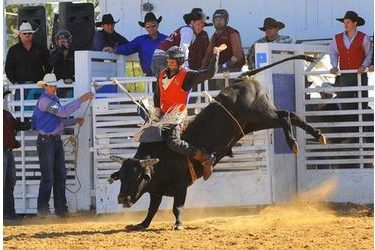 Goodwell, Okla. – The men of the Oklahoma Panhandle State University Rodeo
Team have found themselves in a familiar spot: first. At the resting point
of the spring semester, the OPSU Men's Team commands the Central Plains
Regional standings by nearly 500 points over second-place Southwestern
Oklahoma State University. The ladies in the red and blue vests are fourth
as a whole.
Leading the men's side is all-around talent Joe Frost. The heavily-decorated
cowboy is situated in second place of the bull riding and rests in the
third-slot of the steer wrestling. His combined points in those two events
make him the top contender in the all-around race.
Joining Frost at the top of the bull riding is Jeff Bertus in third place
and little brother, Josh Frost, currently in fifth.
The saddle bronc riding is full of Panhandle State cowboys. After an amazing
roll to start the spring semester, Nat Stratton has climbed into the number
two position. He is followed closely by Clay Elliott. Preston Kafka remains
in fifth while Joe Harper, Blaze Cress, Jake Watson and Audy Reed are
clustered among the top ten of the classic event.
The Panhandle dominance continues from the bucking chutes in the bareback
riding. Orin Larsen is second while Logan Glendy is right behind in third.
From the roping boxes, Caleb Bullock has put together solid runs all season
to maintain his position as the number two cowboy in the tie down roping.
The Remington brothers have kept momentum in the team roping as they
currently sit in sixth place. They are joined in the point standings by the
teams of Lucas Phillips/Connor Stephens and Kashly Schweer/Shelbie Weeder.
The ladies have gained individual points this spring. In the goat tying,
Laremi Allred is currently seventh while Sam Foos and Schweer have points on
the board as well.
In the breakaway roping, Terra Micek and Kate Peterson rest amongst the top
15. Randi Buchanan also has points accumulated in the barrel racing.
The OPSU Rodeo Team will begin the second portion of their hectic spring
schedule in Durant, Okla. for the Southeastern Oklahoma State University
Stampede April 3-5. From there, they will continue to Weatherford, Okla. and
Hays, Kan. before making their last stop at the Henry C. Hitch Pioneer Arena
for the Doc Gardener Memorial Rodeo held April 24-26. The champions of the
Central Plains Region will be crowned on the Guymon soil at that time, and
the cowboys and cowgirls of Panhandle State are making sure they are
included in the saddle presentations.