Panel Discussion Aims to Inspire Students at SCCC
Joe Denoyer - September 22, 2023 11:05 am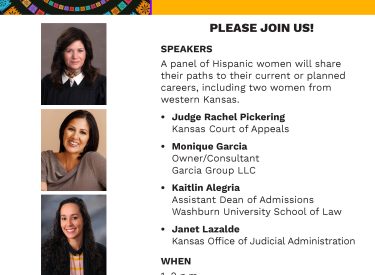 Hispanic Heritage Month is a time for cultural pride and celebration —like the traditional foods served by Hispanic American Leadership Organization (HALO) members on the campus of Seward County Community College, or the upcoming Southwest Kansas Fiesta. But on Monday, four successful Hispanic professionals will speak on campus about the nitty-gritty details of how to find success in the world of academics, business, and government.
The panel discussion has been a goal for Judge Rachel Pickering since 2019, when the pandemic interrupted the first iteration of the project. Pickering, whose grandparents hailed from Mexico, grew up hearing stories about the 10 siblings who were taught to value education above all else. Now judge on the Kansas Court of Appeals, Pickering "wanted to come out to Western Kansas to talk about my experience, and the different paths people can take," she said.
For Pickering, who grew up in St. Louis and moved to Manhattan, Kan. with her husband in the 1990s, the path to success was not a straight line.
"It took many, many steps. I started as a paralegal, didn't go to law school till my early 30s, and I took breaks to raise my family," she said. "Aspiring lawyers should know a career is not linear."
The speakers on Monday are not limited to law, but all share the goal of highlighting how they found success.
"There are so many professions available to our young people, and they need to be encouraged to think about the big picture," said Pickering. Two of the four panelists are Western Kansas natives. Another began her academic journey at a two-year college.
While the panelists all happen to be women, "the information is for everyone," Pickering said. With the goal of hosting an event during Hispanic Heritage Month, "Widen Your Lens" was put together on a tight time frame.
"We hope to make this an annual event, and come back with even more speakers," she said. The panel is set for 1 p.m. Monday and is open to the public.