Pancake Race Results
KSCB News - February 17, 2015 3:38 pm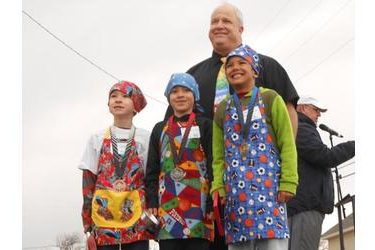 After losing three years in a row to Olney, Liberal took back the title
today in the 66th International Pancake Day Race between Liberal, Kansas,
and Olney, England.
Liberal Pancake Day Race, 2015
1st place: Hannah Belton, age 24. Time: 1:09 (one minute, nine seconds)
Belton is a second grade teacher at Southlawn Elementary and the girl¹s
cross country coach at South Middle School in Liberal.
This was her second year to race. She placed 4th last year.
Olney Pancake Race winner was Emma Maitland with a time of 1:15.09
Maitland placed second in last year¹s Olney race to Devon Byrne, who was in
Liberal this year and ran as an honorary racer.
The overall all race record now stands at 37 wins for Liberal and 28 wins
for Olney. (In 1980 the score didn¹t count as a media truck blocked the
finish line in Olney.)
The record time of 55.6 seconds still belong to Devon Byrne, who has won
three years and can no longer race, according to International Pancake Day
Race rules.
Men¹s Pacer 2015 Results
1. Kelby Tomlinson, 24
2. Kevin Altamirano, 21
3. Tyson Small, 32
2015 Children and Youth Race Results
SHORT STACK SPRINTS
3 year old girls
1. Teagan Hensley
2. Aubrie Maturey
3. Mylee Macias
3 year old boys
1. Anthony Farrar
2. Abel Clark
3. Alekxander Drummer
4 year old girls
1. Devaney Carter
2. Kathryn Brown
3. Alizay Trejo
4 year old boys
1. Shane Linder
2. Jose Aaron Bolivar Jimenez
3. Kale Miller
5 year old girls
1. Yazlene Martinez
2. Lauren Sleder
3. Maliyah Mullens
5 year old boys
1. Ethan Olmstead
2. Kadyn Gonzalez
3. Kamryn Regier
Elementary I Races
6 year old girls
1. Shamari Lewis
2. Kenzie Johnson
3. Addie Harris
6 year old boys
1. Jered Medellin
2. Jordan Cedillo
3. Max Stapleton
7 year old girls
1. Janaya DeVorce
2. Zoey Torres
3. Allie Mendez
7 year old boys
1. Diego Pavia
2. Giezl Gonzalez
3. Austin Dodge
8 year old girls
1. Julianna Van Wyhe
2. Hayleen Martinez
3. Elizabeth Mannel
8 year old boys
1. Daniel Pavia
2. Jalyn Jarboe
3. Dalton Stromquist
9 year old girls
1. Hallie West
2. Celia McCloud
3. Kylee Hammel
9 year old boys
1. Zayden Martinez
2. Issac Dominguez
3. Aidan Schwindt
10 year old girls
1. Arianna Hubbard
2. Tia Lenear
3. Haley Scofield
10 year old boys
1. Erick Daniel Amparon
2. Trystian Juarez
3. Talon Stromquist
11 year old girls
1. Suheila Rosas
2. Cate Alling
3. Emma Evans
11 year old boys
1. Malachi Mullens
Middle School Races
12 year old girls
2. Grace Crossman
3. Jensen Mettlen
4. Briana Zuniga
12 year old boys
1. Spencer Linder
2. Darius Archuleta
3. Malcolm Wiltshire
Youth Races (14-18)
13 year old girls
1. Jela Gray
2. Morgan Nelson
13 year old boys
1. Skyler Brady
2. James Hammel
14 year old girls
1. Alicyn Carey
14 year old boys
1. Merrick Dodge
2. Jose Aguilera
15 year old girls
1. Daniela Marquez
16 year old girls
1. Shayanna Molina