Pancake Day Talent Show Results
KSCB News - February 11, 2013 11:13 pm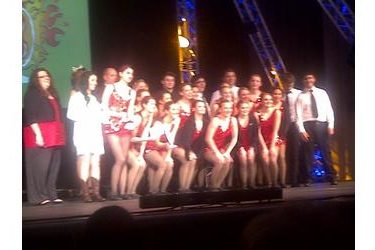 21 different acts in 4 different divisions competed Monday evening in the 2013 Pancake Day Talent Show.The event was held at the Jim Maskus Auditorium, hosted by the Liberal Noon Lions Club, and was emceed by for contestant and LHS graduate Kandee Marchel-Kavanaugh. The results are as follows:
Tiny Tot Division (ages 4-8):
Ashlynn Brady, vocal solo "I Just Want to Be a Star"
Faith Beesley, vocal solo "Oh My Goodness"
Cianna Rogers, piano and vocal solo "Patriotic Medley" (tied for 3rd)
3. Sayler Stapleton, dance "Hakuna Matata" (tied for 3rd)
Junior Division (ages 9-13):
1.Gatlin Clawson, vocal solo "How Do You Milk a Cow"
2. Walker Clawson, piano solo "Le Petit Negre"
3. Sydney Beesley, vocal solo "I Just Want to Be a Star"
Senior Division (ages 14-18):
1. Dance Images Dance Troupe, dance "Na Na Na"
2. Mariah Rome, Hula Hoop dance "We are Never Ever Getting Back Together"
3. Sydney Mathews, vocal solo "I Know You Won't"
Adult Division (ages 19 and older):
1. David Kerwood, guitar and vocal solo "It's All About You"
2. Everyday Sun Day Vocal group, performing "Diamonds"
3. Katelynn Draper, vocal solo "Make You Feel My Love"
People's Choice Award ($200): Katelynn Draper
Audience members texted votes for the People's Choice winner at the end of the show. The texting feature was arranged by United Wireless, sponsor of this year's talent show.
Ticket Sales Award ($100): Katelynn Draper
Awarded to the contestant who sold the most tickets.
Contestants were awarded trophies and cash prizes totaling more than $2,000.