Pancake Day Races Starting To Fill Up
KSCB News - January 23, 2013 11:56 am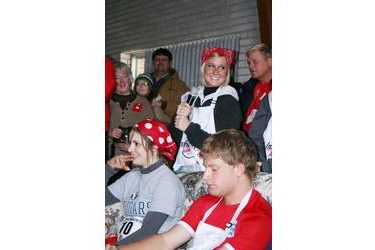 As of 6 p.m. Tuesday, 10 women had entered the Feb. 12 International Pancake Day Race, including last year's Liberal race winner, Kaela Krueger, 20.
In addition to Krueger, other entrants are Heather Olmstead, 26, competing for the second time; first-time racers Kristen Sadler, 29; Marisol Pavia, 30; Rene Boaldin, 20; and Laura Garcia, 23; veteran racer Tessy Barnett, 39, who will be competing for the 10th time; Tessy's daughter, Tabitha Barnett, 18, a first-time racer; Jennifer Taduran, 30; another newcomer; and Mikayla Knudsen, 23, who will be racing for the fourth time.
Race sign-ups for all ages continue through Feb. 1, but each race is limited to 15 runners.
The Men's Pacer Race has five entries so far: Jeff Laha, 57; Joe Denoyer, 52; Adam VanWyhe, 31; Pedro Marquez, 19; and Tyson McGuire, 28. McGuire placed second in the Men's Race last year. The Women's Last Chance Race has one entrant so far, LaDena Laha.
Children's races are filling up fast also. Seven- and eight-year-old girls categories are full, and as of Tuesday evening, only a few openings remained for 4-, 5-, and 6-year-olds.
Sign-ups are at the Liberal Recreation Center, 1109 W. 7th St. (in Blue Bonnet Park during regular business hours, Monday-Friday, 8 a.m. to 6 p.m. through Feb. 1. These sign-ups are for all races and all age groups, except for the Feb. 9 Pancake Chase.
The number of entrants allowed in each race is limited to 15, and a category will be closed once that limit is reached. There is no entry fee. No late sign-ups will be accepted.
All sign-ups are at the Liberal Recreation Center, 1109 W. 7th St. (in Blue Bonnet Park). For more information on any race, call Ronna Stump at 626-0133 or JoAnn Combs at 624-6423.