Owens Leave Seward for Southern Arkansas; Ashley Takes Over Seward Tennis
Brock Kappelmann - January 9, 2018 6:19 am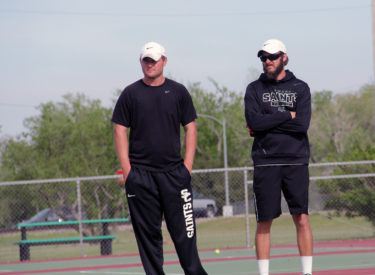 LIBERAL, Kan. – Seward County has announced the resignation of tennis Head Coach Greg Owen after two years at the helm to accept the same position at Southern Arkansas University. Assistant Coach Chase Ashley will take over as the head coach.
"I want to thank Greg for taking our Tennis program to new heights in the past 2 ½ years," Athletic Director Roy Allen said. "He has worked extremely hard to recruit and train some of the best junior college players in the country and has left our program in very good shape for Chase. We are sad to lose Greg, Carisa, Anna, Claire, and Joey from our Saints family, but wish them the very best of luck at Southern Arkansas."
Owen leaves after two historic years with Seward, winning two straight Region VI championships with the men's program and winning the first Region VI Championship for the women's program in 2017. He will finish with a 33-10 record with the Saints and a 31-12 record with the Lady Saints.
Assistant Coach Chase Ashley will step up to take the reins. Ashley has been the assistant coach under Owen's for the past two years.
"There will be very little transition with Chase taking over our program," Allen said. "He has worked closely with Greg over the past 2 ½ years and has had much more responsibility than the 'average' assistant coach has. I expect him to provide strong leadership and accountability for our players and look forward to both of our teams battling at the top of the NJCAA ranks again this Spring."
As the assistant, Ashley helped guide both Seward programs to Top 5 finishes at the NJCAA National Tournament, with the Saints ending in 4th and the Lady Saints in 5th. The Saints and Lady Saints combined for 33 wins in 2016-17, including both winning the Region VI Tournament Championship.
LIBERAL, Kan. – Head Cheerleading Coach Carissa Owen has announced her resignation. She will be relocating after her husband and Head Seward Tennis Coach, Greg Owen, accepted the head coaching job at Southern Arkansas University.
"I appreciate all that Carisa has done for our Cheerleading program over the past five months," said Athletic Director Roy Allen. "She has worked very hard and her passion and organization for the program will be missed. We wish her, Greg, Anna, Claire, and Joey all of our best in Russellville."
The Seward County Athletic Department will begin searching for Owen's replacement immediately. Interested candidates are encouraged to visit SCCC.edu<https://www.sccc.edu/web/human-resources/human-resources/employment-opportunities/head-cheerleading/-dance-coach> for more information on the position.
[cid:[email protected]]
Ian Applegate