Over 200 Seniors Graduate from LHS
KSCB News - May 24, 2010 12:00 am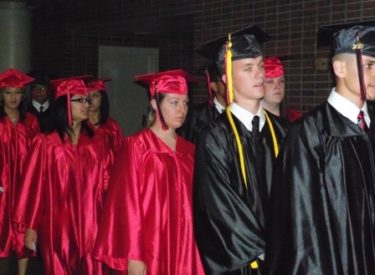 On Sunday, over 200 seniors graduated from Liberal High School in the LHS Gymnasium.
Vernon Welch and Charles Chain were both also honored for their service to the district as Welch is retiring as the district's superintendent, while Chain is retiring as long time Government teacher at LHS.
Lydia Young, who is the class of 2010 Salutatorian gave a speech that included a "Rock Chalk" shout-out. Young will be attending the University of Kansas in the fall.
Emily Jackson, who is the Valedictorian also gave a speech that included many useful definitions to success in life. Jackson will be attending Kansas State University in the fall.
Principal Keith Adams also shared some words of wisdom from Thomas Payne, before acknowledging that the class of 2010 had reached the requirements to graduate from LHS.
The diplomas were passed out by the board of education, and then board member Cheryl Louderback confirmed the class. Louderback told the class that she wanted to confirm them because they held special meaning to her since they started school the first year that she joined the board.
This was the final scheduled graduation at LHS to be held in the gym as Principal Keith Adams announced earlier this year that beginning next year that graduation will be moved to Redskin Field weather permitting.