Outside Shooting Propels Andover Over Redskins
KSCB News - January 22, 2016 8:44 pm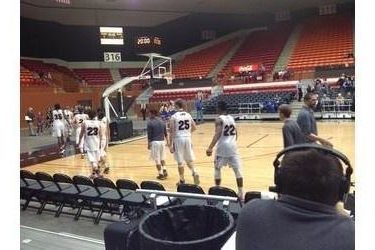 Liberal made three of 17 three point attempts and Andover sunk seven of 16 from distance. That was a key difference in Andover's 64-51 win over the Redskins in the opening round of the Salina Invitational at the Salina Bicentennial Center Friday evening.
LHS led early 11-2 and 15-11 after one quarter. The Redskins led 27-26 at halftime. The Trojans took command in the second half leading LHS by as many as six in the third and 46-41 at the end of three. Andover was 17-21 at the line while Liberal was 13-18.
Liberal falls into the loser's bracket where they will play either fifth ranked 4A division 2 Concordia or seventh ranked Salina Central at 7:15 Saturday night at the Bicentennial Centr on 1270 and kscbnews.net. Liberal is 7-3 after losing their first game against the AVCTL's Trojans since playing them in sub state in the Big House back in 2010. Andover is 5-5.