OPSU's McClendon Named Player of the Year
KSCB News - November 26, 2014 7:01 am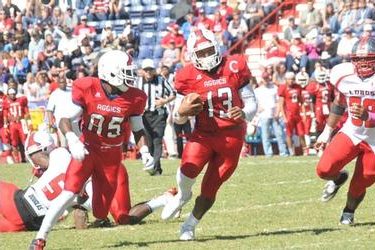 Goodwell, Okla.-OklahomaSports.Net released its inaugural class of football
honorees this week which includes four Aggies; two First Team Offense
players and two Second Team Defense players.
Receiving top-honors was junior running back Chris McClendon who was named
2014 All-OSN Offensive Player of the Year. McClendon was a huge contributor
in this year's offense ranked fifth nationally (total offense), rushing for
over 1100 yards on 173 carries, and tacking on another 281 yards receiving.
The Rixey, Ark. native started in all ten games this season and averaged 145
all-purpose yards per game; he led his team with 12 touchdowns on the
season.
Offensive Coordinator Lucas Peters shared his reaction to the recognitions
"I feel extremely blessed to be able to work with each of these men; they
are all great football players but even better people. Chris had one of the
best years I've see for a running back and he did it splitting time with
another talented back (Rod Moore)."
McClendon earned a spot on the First Team Offense along with teammate wide
receiver Zacari Lavender. Lavender had an impressive sophomore season as the
Aggies' leading receiver with 29 catches for 760 yards and eight touchdowns;
he averaged 84 yards per game over nine games played. In addition, Lav
contributed on special teams with one punt return good for a touchdown and a
43-yard kick return; he also scored two touchdowns rushing. Peters added,
"Zacari is an extremely explosive athlete, which showed as he scored a TD
almost a third of the time he touched the ball."
The Aggie Darkside-D was also recognized with two players earning spots on
the Second Team Defense: linebacker Tanner Hallford and punter Devin Rubino.
Hallford finished his junior season leading his team in tackles with 84 (42
solo/42 assists) and in sacks with 7.5. He also contributed 18
tackles-for-loss, one forced fumble and had one pass break-up over his ten
games starting for the Aggies. Rubino, also a junior, averaged over 40 yards
per punt; his season long was a 67-yarder against Bacone College.
Of the defensive players Peters said this, "Tanner had the best year of any
defensive player since this staff has been at OPSU. It seemed like he made
every play on Saturdays. Devin has one of the biggest legs in the country
and showed it time and time again."
The Aggies are coming off a milestone-setting season, winning seven games
for the first time since 1986 and ending up ranked in the top-ten nationally
for both defense and offense. Peters concluded, "The good thing about being
a part of OPSU Football right now is every one of these guys is coming back
next year. I know all these guys are licking their chops to get back on the
field already, let's hope next year we can have a few more Aggies on this
list."
OklahomaSports.Net covers sports throughout the state of Oklahoma focusing
on smaller colleges. The site was named as a Top College Athletics Blog by
eCollegeFinder for 2013 and is headed up by Joey McWilliams of Durant, Okla.
McWilliams has been a generous advocate of Oklahoma D-II football and the
coaches and players of OPSU Football would like to express their sincere
gratitude for the coverage and recognition they received through podcasts,
polls and rankings throughout the season.
Congratulations to Chris McClendon, Zacari Lavender, Tanner Hallford, Devin
Rubino and the entire Aggie football team and coaching staff on the
successful season and well-deserved honors. Aggie fans can see the full list
of All-OSN team members by visiting oklahomasports.net.
###
Justine Gaskamp