OPSU Women Bury Barclay
KSCB News - November 12, 2012 6:18 am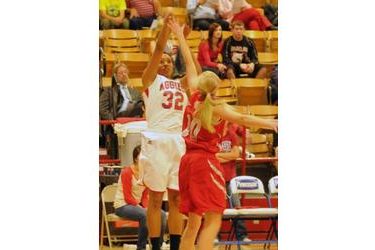 Aggies Get Past the Bears
-By Daulton Perry on 11/11/2012
Goodwell, Okla.-The OPSU women's basketball team hosted the Barclay Bears on
Saturday night, and after winning their home opener the night before, they
wanted to continue their winnings ways to start their season off right.
The game started off slowly for both teams as the score at half was just
31-12. The Aggie defense held the Bears to just 15.4% from the field for the
first half as OPSU shot 33.3%. OPSU stepped up their shooting in the second
half as they shot 52.9% to end the game. The Barclay Bears struggled
offensively in the second half as they only made one shot from the field.
The only thing that kept the Bears in the game was the fact that they had
more free throws than field goals (36 to 27). However, the Aggie offense was
too much for the Bears and OPSU defeated Barclay 77-33.
The leading scorer for the Aggies was Sharice Papaleo with 18 points and she
also recorded nine rebounds for the game. Meagan Bell was also in double
figures as she accounted for 11 of the Aggies 77 points. Shayla Mathis had a
big game on the boards as she had 12 rebounds to go with her 9 points. OPSU
heads to Weatherford, Okla. on Tuesday to take on Southwestern Oklahoma
State.