OPSU Shocks #6 St. Mary's
KSCB News - March 24, 2014 6:44 am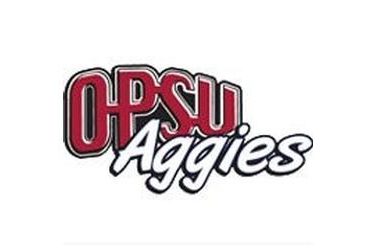 By Justine Gaskamp on 03/23/2014
San Antonio, Texas-"From the first pitch of the series, these kids battled
their hearts out," said OPSU Head Baseball Coach Steve Appel after the
Aggies pulled an impressive win Saturday over the #6-ranked St. Mary's
Rattlers to go 1-2 in the Heartland series match-up.
Appel continued, "They knew they would have to play well in order to compete
with one of the nation's top teams, and if not, one of the classiest and
best-ran programs in the country. In the first couple games they played well
but made a couple key mistakes that you simply cannot make against a team
like that."
Aggies hung tough in game one Friday afternoon, with Sam Beattie pitching a
full six innings and giving up only five hits and two runs, and throwing
four strikeouts against the Rattlers. Beattie left the mound with a 2-1 loss
for the game.
St. Mary's scored their runs early and held a 2-0 lead after two innings;
Beattie held them scoreless through the final four innings.
Chris McClendon was the only Aggie to cross home plate in game one after
reaching first on a throwing error by the Rattlers' catcher; Robert Montoya
drove a double advancing McClendon to third and he then scored off another
Rattler error.
Walker Rainwater led off on the mound for the Aggies in game two and went
5.1 innings with two hits, four runs, and two strikeouts. Adam Burke and Tom
Parker were also called upon; each allowed only one hit and one run and
Burke dished one strikeout.
The Aggies made St. Mary's work in game two, taking them ten innings and
holding them to just four hits the entire game while the OPSU batters
notched 14 hits.
Evan Offutt hit a double up right center to start the fourth and was
followed by Lucas Ogaz who reached on a fielding error by first base.
Montoya came up with a single up the middle bringing Offutt home for the
Aggies' first run of game two; the score was tied 1-1 after four innings of
play.
The Rattlers would score three runs in the sixth inning and one more in the
seventh while the Aggies still sat with only one run on the board. That
would change, however, in the ninth inning when Peyton Osbon got things
going with his first run of the day.
Dylan Dudley, Robert Montoya, Evan Offutt, and Sam Moreno would also come
across in the fourth inning tying the score at 5-5; Tom Parker and the Aggie
defense kept St. Mary's from scoring in the bottom of the ninth which
brought on a tenth inning.
After a quick double-play followed by a strikeout for the Aggies, St. Mary's
was able to bring in one run in the tenth off a double and two sacs for the
6-5 win.
"On day two it was different," said Appel. "We learned from our mistakes and
took advantage of mistakes they made. This is the first time these kids
played to the potential of what I have been envisioning for this program and
I believe it is going to continue."
Day two was indeed different as the Aggies struck first with four runs in
the fourth inning to take a 4-0 lead over the Heartland's second-ranked
team. St. Mary's didn't hold back and brought in five runs of their own to
close out the fourth inning with a one-run lead over the Aggies.
The Rattlers kept the hits coming and brought in two more runs in innings
five and six to pull ahead 7-4, but the Aggies came back for more in the
seventh scoring three runs and tying the game at 7-7.
The eighth inning was a quick up/down for each team with zero runs coming
in. B.J. Henry was called from the bullpen with two outs in the bottom of
the eighth.
The Aggies came back ready to rally in the ninth starting off with a single
by Dudley and another Rattler fielding error which left two on base with
zero outs.
As Appel said, the Aggies took advantage of St. Marys' mistakes, grabbing
bases off of a throwing error, two walked batters, and a wild pitch, all in
the ninth inning. In all, the Aggies came through with five runs, taking a
12-7 lead going into the bottom of the ninth.
Henry threw the three strikeouts needed to put the game away and earn his
first win as an Aggie pitcher.
Spencer Long was the starting OPSU pitcher in game three, and really kept
the game in control forcing ground balls the entire day. Long went 7.2
innings and gave up only five earned runs; he allowed one base on balls and
threw three strikeouts.
Coach Appel had this to say about the Aggie pitching crew, "Overall, the
pitching and defense was pretty good. The pitching has given us a chance all
year to win and they did just that in all three games. They just continue to
learn every day that this conference is a grind."
Appel also commented on the team's hitting, "Our smaller guys played the
small ball really well, and we had a couple of big guys come to the plate
and drive them in with big hits."
Leading the Aggie bats in game three was Chris McClendon who came away
hitting 3-5 for two RBI; McClendon also scored two runs. Montoya and Offutt
each hit doubles in game three good for one and two RBI respectively.
For the series, Evan Offutt and Robert Montoya led the Aggies with three RBI
apiece. Offutt went 3-5 with one BB and Montoya went 4-9 with two BB.
Nick Crosswhite topped the team in fielding totaling 20 putouts from first
base in his two games at that position. Peyton Osbon had 13 putouts from
centerfield, and Bo Ybarra had nine as catcher.
"As a young coach with an overall young team, I couldn't have asked for a
better effort this weekend," said Appel on the series. "I tell them every
day that this type of series is why we play this game. I am proud of how
they responded after two really tough losses on day one. I really believe
this might be the answer to help us make a run at making the conference
tournament. These kids really have a bright future here at OPSU, they play
the game right, they are hungry to get better every day, and they are a ton
of fun to be around."
Aggie fans will get to see this hard-nosed team in action this week as the
Aggies are set for a double-header at home against Colorado Christian
Wednesday, March 26; first pitch will take place at 1 p.m.