OPSU Names Aggies of the Year
KSCB News - June 9, 2015 6:48 am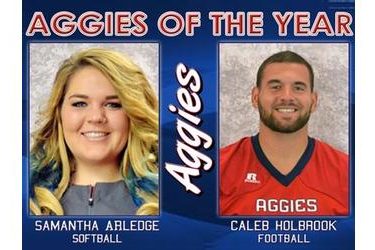 Goodwell, Okla.-It was a great year of sports at Oklahoma Panhandle State
University with several record-breaking performances from some very talented
young athletes; that's what made this year's selection of the Aggies of the
Year one of the toughest in recent memory.
After finishing with two of the best records of the 2014-2015 seasons, the
winners came from the softball and football teams as pitcher Samantha
Arledge and quarterback Caleb Holbrook were named the female and male OPSU
Aggies of the Year for their stellar performances.
Arledge led the Aggies to their best season since 2012 with a record of
16-34 and seven wins in the Heartland Conference, falling just short of the
conference tournament. The junior from Travelers Rest, S.C. topped the
Heartland ranks in strikeouts totaling 199 on the season (an average of
10.37 per game) and strikeouts looking with 56. She ranked fifth in wins
with a season record of 13-12 in 35 games played, and also ranked first in
the conference regular season in innings pitched with 172, an average of
4.93 innings per game.
Throughout the 2015 season Arledge held conference hitters to a .283 batting
average. A strong force at the plate herself, Arledge batted .306 this
season and totaled 18 RBI; she sent six hits for extra bases including two
doubles, a triple and three home runs. Her slugging percentage was .459 for
the year with an on base percentage of .355. She showed marked improvements
from last year and dropped her ERA from 4.87 in 2014 to 4.14 in 2015. The
Aggies expect great things from Arledge her senior season.
With senior Holbrook at the helm the Aggies held a winning record of 7-3
this season; the teams' best record in 28 years and, by far their best
offensive year in school history (shattering the school scoring record by
averaging 43.3 points per game). He totaled over 3,000 yards total offense
and led the team to a #5 national ranking in total offense and #6 national
ranking in scoring offense for the 2014 season.
In his three-year career as an Aggie Holbrook broke school records in the
following categories: total TDs accounted for (70), total passing TDs (59),
total passing yards (6,572) and total yards (7,431). After finishing the
2014 season Caleb was invited to play and competed in both the National Bowl
in Miami, Fla. and the All-American Bowl in Dallas, Texas. The Groesbeck,
Texas native hopes to further his football career on a professional level.
Congratulations to Samantha Arledge and Caleb Holbrook for being outstanding
representatives of Oklahoma Panhandle State University and Aggie Athletics!
The OPSU coaching staff also deserves recognition for their successes this
year and for serving as trainers and mentors to all of our Aggie athletes.
###
Justine Gaskamp