OPSU Gears for Two Seasons
Brock Kappelmann - August 27, 2020 7:12 am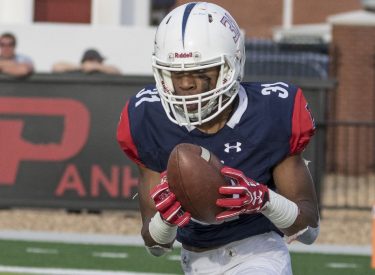 Dave Beyer
Updated OPSU football fall 2020 slate announced
GOODWELL, Okla. – The fall portion of the 2020-21 Oklahoma Panhandle State University football schedule has been announced by Head Coach Bob Majeski. The Aggies Fall 2020 portion of the split season will consist of five games, two in Goodwell and three on the road.
Panhandle State is also expected to have six Sooner Athletic Conference games in Spring 2021, which will be announced at a later date. Due to changes dictated by the COVID-19 situation, the NAIA moved its fall sport championships to the spring of 2021.
OPSU will open the season on Saturday, September 12 (6 p.m.) at Ottawa University of Kansas. The Braves are members of the Kansas Collegiate Athletic Conference. OU holds a 2-1 edge in the series, but the teams have not met since 1994 (the Aggies lone win versus Ottawa).
On Sept. 19 (Sat./7 p.m.), the Aggies will head to Canyon, Texas to face West Texas A&M University for the first-ever game in the new Buffalo Stadium. WTAMU, a member of the NCAA Division II Lone Star Conference, is 17-1 all-time versus Panhandle State. The teams last met in 2018 in Canyon, a 42-7 win for the Buffs.
OPSU's next three contests will be versus SAC members, but will be considered "non-conference" games on the schedule in the fall. These bouts were set up to fill the virus voids created among league members.
On October 10 (Sat.), Arizona Christian University will come to Goodwell for a 2 p.m. kickoff at Anchor D Stadium. Panhandle is 2-1 versus the Firestorm, but lost last season's meeting in Glendale, Ariz., 34-14.
Next up for the Aggies is a date at Wayland Baptist University in Plainview, Texas on Oct. 31 (Sat./2 p.m.). OPSU is 5-1 in the all-time series with the Pioneers. WBU won last year's meeting in Plainview, 35-14.
The final fall bout for Panhandle State has the team returning to Anchor D Stadium on November 14 (Sat./2 p.m.) versus Southwestern Assemblies of God University. The Aggies hold an 8-3 edge in the series versus the Lions, including 2019's 35-0 blanking in Goodwell.
As with all things related to COVID-19, contests are subject to change and everyone is encouraged to periodically check out the OPSU web site for updates.
[For Email OPSU_LOGO_FINAL-Signature]
Dave Beyer