OPSU Aggie Update
Joe Denoyer - October 31, 2018 2:02 pm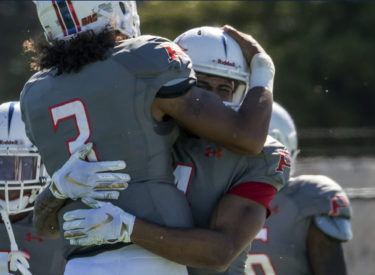 See this article on our website: https://opsuaggies.com/news/2018/10/28/football-aggies-tame-lauded-lion-offense.aspx
Aggies Tame Lauded Lion Offense
Released by Panhandle State Sports Information on 10/28/2018
Beverly Hintergardt photo
Waxahachie, Texas-On Saturday the Panhandle State football team took down a top-tier conference opponent that held Top-25 standings early in the season. The Southwestern Assemblies of God University Lions were defeated 35-20 on their home turf, and held to their second-lowest offensive output this year. The Aggies improved to 5-4 on the season and sit second in the league ranks with a 5-1 record in the Sooner Athletic Conference.
In contrast, the Aggies achieved their best rushing performance this season with 349 yards on runs, accomplishing their ground-heavy approach to this week's instrumental matchup. The team contained SAGU's run game to just 17 carries for 109 yards and allowed just one passing touchdown to esteemed Lion quarterback CJ Collins.
Aggie Head Coach Russell Gaskamp commended both players and coaches on the total team effort stating, "We went in with a very specific game plan on offense, and that was to keep the ball away from CJ [Collins]. We know how proficient their pass game has been this year, and they have some very good receivers. Our offense did a great job of not only rushing the ball but of having long, extended drives keeping them off the field." He continued, "Coach Gib [LeMarcus Gibson, Defensive Coordinator] and the defensive staff did an outstanding job of changing up coverages and giving them some different looks, and getting a handful of three-and-outs in the game. The kids really bought into what we were trying to get done, they understood that that was how we were going to win that game, and they made it about the team and not about themselves. I was very proud of us on Saturday."
Panhandle's Darkside Defense cast a shadow on the Lions' prolific passer [Collins] shutting down their opening drive with a three-and-out effort that allowed just four yards to the N0. 2-ranked Total Pass Offense in the nation. Freshman quarterback Martez Vrana came out with a nine-yard completion to running back Danny Valverde, and crossed midfield to the SAGU-34 on two handoffs to Dylon Cullum. Vrana gained five yards on a keeper, but fell short on third down leaving the Aggies in a 4th-2 situation. Opting to go for it at the SAGU-29 Valverde was stopped for a loss, turning the ball over on downs. The Lions were forced to punt on their next possession, thanks to three incomplete passes by Collins and a breakup by Aggie back Deyleon Williams. It was a back and forth battle throughout much of the first quarter until Vrana and Valverde put together a seven-play series that put seven points on the board for Panhandle State. Valverde collected 14 yards on the ground and Vrana completed two passes including a 63-yarder to freshman receiver Emile Cola; Vrana carried the one-yard keeper into the endzone to claim a 7-0 lead with under three minutes left in the first quarter. Collins opened up the pass play on SAGU's next series, launching seven targets for a combined 79 yards to tie things up at the end of the first period.
The Aggies maintained possession going into the second quarter and marched 75 yards downfield on eight rushes, ending with a six-yard touchdown run by Valverde. The Aggies defense had another great stop on SAGU's subsequent drive, forcing a turnover on downs with a huge 4th-2 tackle for loss by Jaylon Thomas. Eduardo Villarreal placed the Lions on their own ten-yard line with a punt on the next possession, but SAGU slipped through defenders on the ensuing drive with a big 85-yard touchdown run to even the score once again (14-14). Maintaining focus, the Aggies fueled another scoring drive under the collected resolve of Martez Vrana. Mixing up the offensive personnel, Panhandle utilized two receivers and three backs to get the job done. Freshman Kyzen Hudson carried in the 37-yard hand-off to score his first collegiate touchdown and pull Panhandle back into a seven-point lead (21-14). Feeding off the momentum roused by the offense, the Aggie defense staved off SAGU through the remainder of the second quarter. Defensive back De'Adryelle Fites intercepted a pass by Collins on the final play of the first half.
The energy carried into the third quarter as the Aggies started off the second half with an impressive 18-play drive that devoured over nine minutes off the play clock. Vrana alone carried the ball seven times for 33 yards and scored his second rushing TD of the game. Down 28-14, the Lions were confined to the pass as time was running out. Collins went one for three on their first drive of the quarter, bringing out the punt unit. The Aggies were stopped on their next possession, which saw one incomplete pass and three carries by Carlos Ransburgh. Relying on the arm of Collins, SAGU suffered another three-and-out series and took a quarterback sack by Hunter Kirkham as the third quarter ticked down.
Vrana had another long run for 31 yards, setting up another Aggie TD to start the fourth quarter. Eduardo Villarreal booted through his fifth extra point of the day to build a 35-14 lead over the Lions. Panhandle's defense held SAGU inside their own territory on their next drive and took a touchback on the resulting punt. The Aggies proceeded to run the clock down, using up close to five minutes on their following series. Collins proved his prowess with a 21-yard completion for a crucial first down. The Lions shifted to a ground game and ran 30 yards on three carries for what would be the final touchdown of the game. The extra point attempt failed, leaving the final score 35-20 as the Aggies assumed victory formation.
The Aggies amassed 526 yards of total offense of 84 plays and owned a sizable advantage in time of possession. Vrana led the game in rushing yards with 122 yards on 18 carries for two touchdowns; Carlos Ransburgh and Dyllon Cullum were the teams' next leading rushers with 87 and 56 yards respectively. SAGU's Stephon Free led the Lions with 118 net yards on eight carries for two rushing touchdowns. Collins went 22-41 for 218 yards passing and Vrana finished with 177 yards, connecting on 13 of 19 attempts. Panhandle spread their passes among eight targets with Emile Cola leading the receivers in yardage with one long reception for 63 yards. Nick West and Kyzen Hudson were close behind with totals of 40 and 37 yards apiece. SAGU's leading receiver was Jeremy Carr who hauled in 11 passes for 129 yards. Defensively, Diamante Pounds led the team in tackles with six solos and Gerald Broussard led the Aggies in pass breakups with two. Kirkham had the lone sack of the day and Fites came away with the game's only interception for a 31-yard loss.
Panhandle State football returns to Anchor D Stadium this Saturday, Nov. 3 for their final home game of the season and an SAC matchup against Texas College (0-6). Kickoff is set for 2 p.m. but there will be plenty of pre-game action in the tailgate zone, starting with a live concert by the Jackson Tillman Band at 11 a.m. The annual chili cook-off also kicks off at 11 with tastings offered to the public for a voluntary donation. Panhandle State's PBL business club will be hosting a Purp-Out for the March of Dimes throughout the day and senior Aggie football players will be recognized prior to the game. It's all brought to you by Anchor D Bank, who will have representative present for a special field dedication. Don't miss this big day at Oklahoma Panhandle State University.
Justine Gaskamp Sports Information Director/Athletic Events Coordinator
See this article on our website: https://opsuaggies.com/news/2018/10/31/mens-basketball-splits-1-1-at-mcdonalds-classic.aspx
Men's Basketball Splits 1-1 at McDonald's Classic
Released by Panhandle State Sports Information
Baris Ulker goes up for a shot against St. Thomas in the Aggies' season-opener.-Courtesy photo
Plainview, Texas—The Panhandle State men's basketball team opened their season on the road this week, competing in the McDonald's Classic hosted by Wayland Baptist Oct. 29-30. The Aggies battled through a tough game one loss to St. Thomas 91-84, but came back to notch their first win of the season in game two against Arlington Baptist 87-65.
Junior Jaedon Whitfield picked up right where he left off last season, posting a big double-double performance on Monday. Whitfield led the game in both rebounds and scoring with 16 boards and 30 points. Head Coach Aaron Coombs recounted, "Jaedon [Whitfield] was an absolute monster; they couldn't guard him." Transfers Alan Hodge and Breiman Alexander each achieved double-digit scoring marks, totaling 23 and 21 points respectively against the Celts. Alexander landed 15 points from three-point range, and Hodge contributed with six rebounds and three assists.
Despite the loss, Coombs saw promise and character arise out of the adversity stating, "Monday night was unfortunate. We didn't start very well; we were sluggish and I was not happy with our pace and how we were playing."
Down by as much as 17 points in the first half, the Aggies cut the deficit to nine points (47-38) at the break. Coombs shared, "I told the guys that we were getting in our own way, and that it came down to speed and ball movement, and that was on us." The team responded well in after halftime, narrowing the gap to one point (64-63) at the 10:19 mark. "I knew we would have a chance if we played our kind of basketball, and I was extremely pleased with character we showed by making a run in the second half."
Whitfield swung the team's first lead (70-69) with two-points in the paint, and echoed for another two on a STU turnover. Hodge then landed two in a row to give the Aggies a seven-point advantage with under six minutes left in the game. St. Thomas edged back and reclaimed the lead after sinking back-to-back threes; they went on to add eight points from the line and two from the paint to earn the win.
In Tuesday's outing, senior guard Breiman Alexander led the team in scoring, contributing a game-high of 23 points and knocking down six shots from beyond the arc. Alan Hodge and Turkish forward Baris Ulker combined for 31 points; Ulker earned a double-double on 14 points and a game-high of 13 rebounds. He also brought down two blocks and had two steals in the game. As Coombs noted lacking in their first performance, the Aggies showed an increase in ball movement against ABU, totaling 20 assists to the Patriots' nine. Sophomore Thomas Ellis also offered five assists and posted seven rebounds for the Aggies.
Coach Coombs made note of his newcomers, "Baris [Ulker] had a very good game on Tuesday with a big double-double; he shot well and gave us a presence inside." He added, "Alan Hodge and Breiman Alexander did what I recruited them for and really defended well, especially in the second half."
The head coach commented, "Our theme was to defend and our defense was very good." Panhandle State excelled at the boards 42-30 on Tuesday and held their opponents to 26.3 percent shooting from three-point range. While they owned a healthy13-point lead at halftime (33-20), Coombs felt the team's first-half shooting was sub-par stating, "We just couldn't make anything; we got wide-open shots that wouldn't go in. Thankfully, I saw a big difference in our second-half shooting." The Aggies saw over a 30 percent increase in shooting between the first (29.2) and second (65.6) periods.
With a 1-1 record to start his inaugural season as a head coach, Coombs offered, "As a coach I am very proud. I'm so happy to get the win; it's truly a tribute to my guys because they are the ones out there playing the game." He continued, "I was also able to recognize some things that I need to work on as a coach, like getting us to learn how to better control the game. When we're up by seven with five minutes left, we don't need to play like we're down by 16."
The Panhandle State men's basketball team is set to host their home-opener next week with a 6 p.m. matchup on Tuesday, Nov. 6 against Union College at Anchor D Arena. The Aggies enjoy a four-game home stretch including games on Nov. 12-Calvary University, Nov. 13-Barclay College and Nov. 20-Our Lady of the Lake University. All home games will offer free live stats and video streaming with links available online at opsuaggies.com.
Justine Gaskamp Sports Information Director/Athletic Events Coordinator