OPSU Aggie Football Takes Things to a New Level
KSCB News - February 5, 2015 6:25 am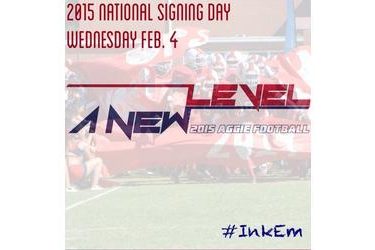 OPSU Aggie Football Takes Things to a New Level with 2015 Signing Class
By Justine Gaskamp on 02/04/2015
Goodwell, Okla.-Head Coach Russell Gaskamp welcomed 29 new players into the
Aggie Football Family this afternoon in a video press release on the campus
of Oklahoma Panhandle State University.
Gaskamp described the moment as "an exciting time" for the players, coaches
and university. The goal during the search for this year's recruiting class
consisted of three things: versatility, recruiting the best athletes they
could find, and having the rare luxury of focusing on "wants rather than
needs."
The Aggies return 20 seniors and 16 starters in 2015 and currently hold a
roster of 100+ players, which offered a little more freedom in finding
all-around athletes this year rather than having to search for specific
needs. This year's class is made up of athletes that are able to play
different positions providing depth in numerous areas.
The Aggie D has added five defensive linemen, two linebackers and five
defensive backs with this year's signees to help transition the Aggies to a
higher level of competition. Defensive Coordinator, Jesse Thompson
highlighted a few key additions like Melquan Primes, a defensive end out of
Klein Forest High School in Houston, Texas; look for Primes to affect
quarterbacks in the passing game with his size and ability to dominate his
opponents.
Other defensive weapons include: Devon Johnson, a defensive tackle from
Killeen High School in Killeen, Texas who looks to be disruptive in the run
game, and Davion Smith, a very athletic and physical outside linebacker from
Lancaster High School in Lancaster, Texas. From the Texas Panhandle, Zach
Watson of Palo Duro High School in Amarillo is a sure tackler in the open
space who looks to make a difference at safety.
In speaking on the offensive side of the ball, Offensive Coordinator Lucas
Peters felt they were able to add a really strong group of players with this
class. Fifteen total offensive signees include four quarterbacks, two tight
ends, six wide receivers and three offensive linemen. Peters stated, "We
were able to identify the players we wanted and were happy to see those
names come through the fax machine."
Peters was most excited about the quarterback group, which he feels are more
than capable of filling the big footprints left by Caleb Holbrook; two top
prospects include D.J. Scott and Eddie Thomas. The Aggies also added junior
college transfer, Shane Truelove at QB out of Santa Anna, Calif.
"Versatility" was the name of the game this year and that is exactly what
the Aggies received in Keegan Gonzales from nearby in Muleshoe, Texas.
Gonzales is described as the best athlete on his high school team, excelling
at multiple positions on the field.
The Aggies were looking to add depth at the wide receiver position and were
able to add "quality" as well according to Coach Peters. Lane Bouse (Beggs),
Nathan Knitig (Texhoma), and Trevor Lester (Noble) are three Oklahoma-grown
receivers who Peters feels can make a push for a spot early on.
Tight end was also a big need for the offense and the Aggies filled that
need with Anthony Bernal and R.J. Rangel both out of Waco, Texas. Not
forgetting the big guys up front, the Aggies were able to add some
"road-graters" to the offensive line who look to clear the way for continued
success in the running game; averaging 6'2-290 Austin Colpean and Kameron
Stubberfield will add great depth to the Aggie O-Line.
In summary, Gaskamp expressed that this will be the fastest, most
experienced Aggie team since his arrival in 2012. He is proud of this year's
recruiting class and feels that the team will be able to compete at a very
high level this season. A complete listing of the 2015 Aggie Football
Signing Class can be found on the Football home page of the OPSU Aggie
Athletics website. All three video releases are alos available for viewing
on the OPSU Aggie Athletics Facebook page and Twitter account. It is indeed
"A great day to be an Aggie!"
###
Justine Gaskamp