One Point Loss at Pratt Ends Seward's Season
Brock Kappelmann - March 5, 2023 10:12 am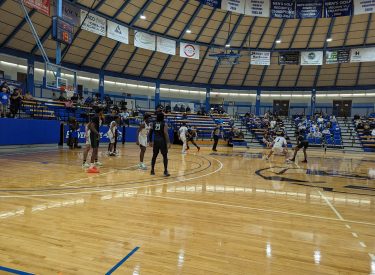 Seward's basketball season ended Saturday night in Pratt as the Pratt Beavers rallied past the Seward County Saints 59-58 in the Beaver Dome.  It's Seward 5th straight postseason loss and fourth straight Region 6 Tournament loss since winning the region in 2019.
The Saints came out ready to play taking first half leads of 20-9 and 24-11.  The Beavers rallied but Seward led 28-22 at halftime.  The Saints still led for most of the second half but the Beavers took a 53-51 lead with 4:52 to play.
Pratt shot for a high percentage again against SCCC.  The Saints controlled the tempo of the game but the Beavers still made 55 percent of their shots and went 6-10 from three point range.  Pratt went 11-19 from the field.  Seward shot 43 percent and connected on 5-13 three point attempts.  The Saints were 5-8 from the foul line.  The Saints out rebounded Pratt 30-21.
Mario Whitley was the Epic Touch Player of the Game with 24 points and six rebounds.  Wilson Dubinsky went 4-9 from three point range and scored 12 points.  He has made the most three pointers in Saints history passing Carlo Walton.  He has made 161 three pointers and Walton made 159 in 1994 and 1995.  His 86 three's are fifth most in a single season.
Pratt wins all three against SCCC this season and improves to 17-13.  The Saints finish 13-18 for their third straight losing season.  It's the first time the Saints have suffered three straight losing seasons since 1986, 87, and 88.