Olney Race Champs To Be In Liberal For Pancake Day
KSCB News - February 4, 2015 8:13 am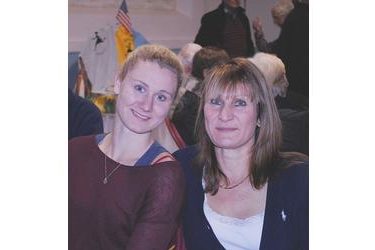 What does it take to win a Pancake Day race? Whatever it is, the Byrnes of Olney, England have it. Last year's winner of the International Race, Devon Byrne, and her mother, Lesley Byrne, can claim six race titles between them. The mother-daughter duo will be in Liberal this year from Feb. 14-17 to find out what Pancake Day is all about on this side of the ocean.
Devon Byrne, 21, currently holds the International Race title, having won the race the last three years in a row. She set a new record time last year of 55.6 seconds on the 415-yard course, breaking her own 2013 record time of 56 seconds.
Devon's mother, Lesley, won the Olney race in 1988, 1989, and 1993. In 1988 and 1989, she also beat Liberal's winners to earn the International title.
The women of Liberal, Kansas, and Olney, England, have been racing each other on Pancake Day since 1950 in a match-up that is unique. Pancake races are common in England, but Liberal is the only U.S. town to race against Olney. The 66th International Pancake Day Race will get under way at 11:55 a.m. on Shrove Tuesday, Feb. 17, when women run a 415-yard course through the streets of town while wearing traditional "housewife" garb of headscarf and apron. Each racer must carry a skillet and pancake and flip that pancake at the beginning and end of the race. Olney and Liberal compare race times during a live video chat after Liberal's race and an International winner is declared.
Why isn't Devon staying home to race again and defend her title? According to the official race rules of both cities, after winning three races, a racer must retire, so the Byrnes are doing the next best thing and visiting their Pancake Day race partners in Liberal.
Devon, who is studying math and sports science at Loughborough University, will be visiting America for the first time.
"It will be a once in a lifetime trip and to be going with my mum will make it that bit more special and memorable," Devon said.
She is also looking forward to checking out American culture and meeting all the people of Liberal.
Lesley, who teaches physical education in a special needs school, says, "I am looking forward to being in Wizard of Oz country, which will really impress some of the children I teach."
She is also excited to see Pancake Day, Kansas-style, as the Liberal celebration stretches over four days, while in Olney everything takes place on Pancake Day.
Both women have advice for the Liberal racers: eat porridge, not pancakes, for breakfast on race day.
In that case, the Byrnes may need to cook up a batch of porridge when they arrive since at last check, porridge is not a common item in Liberal pantries.
With such a winning family tradition, one might wonder if any siblings are in line to take Devon's place back home, but the answer is no. Devon has two brothers, Cameron, 23, and Hayden, 19, but men are not eligible for the International Race.
Lesley still has vivid memories of her race victories, though they occurred more than 20 years ago.
"The first year I won I was on the local TV and in the newspapers and became a celebrity at the school I was teaching at," she said. "Ex-students I meet, who may be as old as 40 now, always remember me winning the pancake races and ask me if I am still doing it."
Lesley also revealed what may be the secret to producing not just a race-winner, but a record-setter: "The third time I won was the day I found out I was pregnant with Devon," she said.
That means Devon has been racing since before she was born.
With Devon retired, perhaps this will be Liberal's year to reclaim the title. Who that woman might is up for grabs, as the winner of last year's Liberal leg of the race, Summer Parsons, is pregnant and will not race.
According to race rules, International contestants must be 18 or over and have "domestic" duties. Parsons joked that she is fulfilling that rule description.
"In true 'domestic' fashion, we're expanding our family! However, next year I will be ready to take on Olney," Parsons said.
While this year's Feb. 17 race will be the 66th competition between the two towns, in Olney, the race dates back to 1445. According to tradition, a woman engrossed in using up cooking fats (forbidden during Lent) was making pancakes when she heard the church bells ring for the shriving service. The woman grabbed her headscarf and raced to the church, skillet and pancake in hand, still apron-clad, and, the race was born.
The current overall score between the two towns stands at 36 wins for Liberal and 28 for Olney. The 1980 score did not count because a media truck blocked the Olney finish line.
Pancake Day is Feb. 17, but in Liberal the celebration will get under way the Saturday before with a full day of activities including flipping and eating contests, a parade, and a talent show.
The Byrnes will be on hand for all events. Their visit was arranged by the Leader Times with support from the Olney Pancake Day Committee, and is sponsored by the following Liberal businesses: First National Bank, Billy's BBQ and Ayr Lanes Fun Center, Southwest Fitness and Racquetball, Heritage Real Estate, and Liberal Gasket Mfg.
For a schedule or more information on Pancake Day, call 620-624-6423, visit the website at www.pancakeday.net, or find us on Facebook at International Pancake Day.