Oklahomans Make Their Primary Choices
KSCB News - July 28, 2010 12:00 am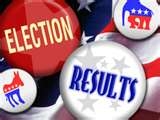 This fall's race for Oklahoma governor will
feature two women at the top of the ticket.
Lt. Gov. Jari Askins defeated Attorney General Drew Edmonson on
Tuesday.
Askins will face Republican congresswoman Mary Fallin in the
Nov. 2 general election.
State Sen. Todd Lamb has been nominated as
the Republican candidate for lieutenant governor.
Lamb, of Edmond, defeated four other candidates Tuesday to win
the GOP primary election. He will face Democratic Sen. Kenneth Corn
of Poteau and independent Richard Prawdzienski of Edmond in the
Nov. 2 general election.
Midwest City resident Jim Rogers will face
incumbent Republican Tom Coburn in the November election for the
U.S. Senate.
Rogers defeated newcomer Mark Myles of Oklahoma City in
Tuesday's primary to earn the Democratic nod. Coburn defeated
perennial candidate Evelyn Rogers of Tulsa and retired teacher
Lewis Kelly Spring of Hugo.
Coburn and Rogers will face Tulsa independents Stephen P.
Wallace and Ronald F. Dwyer in the Nov. 2 general election.
Former state Sen. Scott Pruitt has won the
Republican nomination for Oklahoma attorney general.
Pruitt, of Broken Arrow, defeated Ryan Leonard of Oklahoma City
in Tuesday's primary.
Pruitt will face Democrat Jim Priest of Oklahoma City in the
Nov. 2 general election.
The Republican nominee for insurance
commissioner will be decided in an Aug. 24 runoff election.
Former Insurance Commissioner John Crawford of Oklahoma City
will face John Doak of Tulsa for the GOP nomination because neither
candidate won a majority of the votes cast in Tuesday's primary
election.
The winner of the runoff will face Democratic incumbent Kim
Holland in the Nov. 2 general election.
In races of Local interest, in the 61st District Gus Blackwell defeated Seth Adams for that seat. Blackwell had 61.5% of the vote compared with 38.5% for Adams.
In the Texas County Commission race District 1, Ted Keeling had 300 votes to Ruth Campbells 288.
In the Texas County Assesor ??s Race, Judyth Campbell and Jerry Tucker will face in a runoff election on August 24 as neither one had a majority of the votes.