Oklahoma Senate Cracks Down On Drunk Driving
KSCB News - March 15, 2011 3:46 pm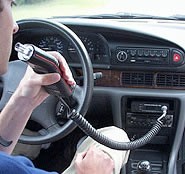 Anyone convicted of driving under the influence of alcohol in Oklahoma would have to install an ignition interlock device on their vehicle for two years under a bill passed by the state Senate and sent to the House.
The Erin Elizabeth Swezey Act passed on a 45-0 vote Tuesday. It's named after a 20-year-old Edmond woman killed by a drunken driver. A second DUI conviction would require the ignition lock for five years and a third would lead to the device being installed for eight years.
The lock includes a device that detects alcohol and the driver must blow into it. If any alcohol is detected – it will not allow the vehicle to start.
Those convicted of DUI would also have the words "interlock required" printed on the driver's license.