Oklahoma Panhandle Partners Sponsor "Tough Enough To Wear Pink"
Joe Denoyer - May 1, 2018 12:00 pm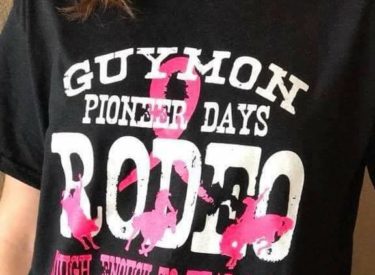 In the pioneer spirit neighbors helping neighbors Oklahoma Panhandle Partners (OPP) sponsors the 'Tough Enough to Wear Pink' Friday, May 4, 2018. Oklahoma Panhandle Partners continue to help cancer patients of all ages with all types of cancer from Cimarron, Texas and Beaver counties regardless of treatment location.
"Come out and join us for the 12th Annual Tough Enough to Wear Pink" says Chairwoman Becky Baggerly. "during the Friday night PRCA performance."
Tough Enough and Rodeo Queens
Pink boots will be passed through the crowd for donations Oklahoma Panhandle Partners by the rodeo queens thanks to the chair Becky Robinson. Outlets for the Tough Enough to Rodeo t-shirts are Bank of the Panhandle, 3 Wild Hairs and Anchor D Bank. Check out the added touch of pink ribbons tied on trees on streets leading to the Henry C. Hitch Rodeo Arena and more of the behind scene work for the event by Mackie Wescott, OPP Tough Enough to Rodeo chair and OPP volunteers
Buy Your Tough Enough to Rodeo T-Shirts
Pre-sales of the popular Tough Enough to Rodeo t-shirts are at Bank of the Panhandle, 3 Wild Hairs, Anchor D Bank and the Guymon Chamber of Commerce office. You may also pick up t-shirts at the OPP office, 312 N. Main, Monday through Friday, 8 a.m. to noon. Drop by the Guymon Pioneer Days Mercantile to purchase t-shirts on Saturday.
The shirts are $15 for child, adult small to extra-large. $20 for XXL to XXXL
For more information call 580.468.6577 or email [email protected]. Visit our office at 312 N. Main in downtown Guymon, Oklahoma.