Oklahoma Gov. Stitt To Visit Guymon Thursday
Joe Denoyer - September 2, 2020 5:12 pm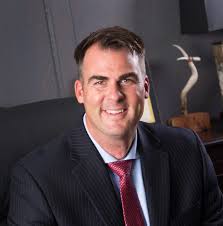 GOVERNOR STITT TO VISIT GUYMON THURSDAY
OKLAHOMA CITY (September 2, 2020) – Governor Kevin Stitt, Commissioner of Health Lance Frye, MD, Secretary of Agriculture Blayne Arthur and Chief Policy Advisor Brian Bingman will visit Guymon Thursday for a number of events related to Oklahoma's response to COVID-19.
The first event open to the public will be a luncheon with community leaders at 12:30 p.m. at Panhandle Telephone Inc., 603 S. Main St. in Guymon.
Governor Stitt's schedule for the day includes:
12:30 p.m. – Community Leaders Luncheon, 603 S. Main St. (open to press)
Local officials from Guymon, Texhoma, Goodwell, Hooker among scheduled attendees
1:30 p.m. – Discussion with agriculture industry stakeholders, 603 S. Main St. (open to press)
2:45 p.m. – Visit Oklahoma Panhandle State University, 323 Eagle Blvd., Goodwell
Panhandle State is receiving a grant under the Food Supply Stability Program
4:00 p.m. – Roundtable with select businesses who have received grant funding through Oklahoma CARES Act programs like the Oklahoma Business Relief Program, 603 S. Main St. (open to press)
Gov. Stitt is Scheduled departure for Oklahoma City at 5:00 p.m.