OKC Bombing Remembered In Ceremony
KSCB News - April 19, 2013 8:23 am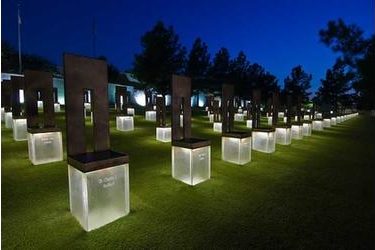 Oklahoma City bombing survivors and victims' family members are set to observe the 18th anniversary of the April 19, 1995, bombing of the Oklahoma City federal building.
A ceremony is planned Friday near the former site of the Alfred P. Murrah Federal Building for the 168 victims of the terrorist attack. Gov. Mary Fallin and U.S. Rep. James Lankford are scheduled to speak.
Similar to previous years, 168 seconds of silence will be observed at 9:02 a.m., when a truck bomb detonated outside the federal building. The names of those killed will be read by family members and survivors.
Organizers say the ceremony, normally held on the grounds of the Oklahoma City National Memorial & Museum, will be inside the nearby First United Methodist Church due to expected poor weather.