Oil prices reach 26-month high
KSCB News - January 5, 2011 1:12 pm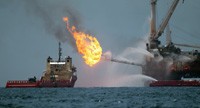 By SANDY SHORE
Associated Press
Oil prices rose past $92 a barrel on Monday to a 26-month high, as the new year began with the prospect of still higher energy prices to come.
Benchmark oil for February delivery rose as high as $92.66 a barrel, $1.28 above Friday's settlement price, in trading on the New York Mercantile Exchange. It gave up most of those gains to settle 17 cents higher at $91.55 on Monday. The last time oil settled above $92 a barrel was on Oct. 3, 2008, when it reached $93.88.
At the pump, the national average for regular gasoline was $3.07 a gallon on Monday, according to the Energy Department's Energy Information Administration. That's about 41 cents higher than a year ago.
Drivers in Los Angeles, Chicago and New York pay some of the highest prices in the country, ranging from $3.33 to $3.16 a gallon. The cheapest gas in major cities is found in Denver ($2.81), Houston ($2.88) and Boston ($3.01).
Oil has been gaining ground on speculation that the global economy will continue to grow in 2011. Many analysts expect the price for oil to reach at least $100 a barrel this year, which will mean higher prices not only for gasoline, but for diesel and heating oil as well.
A $10-per-barrel increase in the price of oil will cost consumers an additional $200 million a day for all energy products, Cameron Hanover energy analyst Peter Beutel said. That means less money to spend on other things, like clothes and electronics.
Analysts think there may not be much to keep oil prices from moving higher after a strong finish in 2010. "The biggest problem with 2011 is that there are very few easily identifiable reasons why oil prices might move lower for any extended period — other than a renewed recession," Cameron Hanover said in a research report. Most economists don't think that's likely.
Positive economic data and surging stock markets pushed oil and gas prices higher on Monday.
The Institute of Supply Management said manufacturers produced more goods and booked more orders last month, leading to the fastest growth in factory activity since May. Automakers, computer and electronics companies and industrial machinery firms were especially strong.
Manufacturing has been one of the strongest performers since the recession ended in June 2009, and the latest report suggests that is likely to continue in coming months.
In Europe, economics analysis firm Markit reported Monday that its purchasing managers' index for manufacturers in countries that use the euro hit an eight-month high last month as stronger production growth and new orders lifted job creation.
Separately, the Commerce Department said construction spending increased 0.4 percent in November, the third straight month of gains. Building activity remained 33.2 percent below the all-time high in March 2006, when spending was driven by a record boom in housing.