O'Hair an Inductee to the Kansas Football Coaches Hall of Fame
Joe Denoyer - February 20, 2022 11:02 pm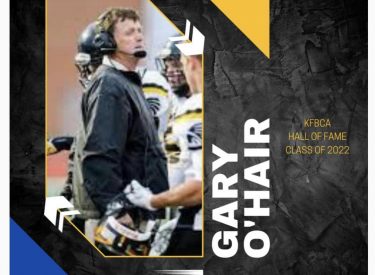 Elkhart alumni is the newest member of the Kansas Football Coaches Association Hall of Fame Inductee – Coach O'Hair.
Gary O'Hair, Southwestern Heights/Andale
After graduating from Kansas State in 1981, Elkhart native Gary O'Hair took his first job at Andale High, where he taught biology and worked as an assistant for 10 years before taking over the head coaching position at Southwestern Heights High School located between Kismet and Plains, Kan. O'Hair remained at Southwestern Heights for 11 years, until a position as the head coach of Andale opened up.
O'Hair started at Andale in 2001 and wasted little time building up one of the strongest programs in the state over the next decade and a half. In 15 seasons with the Indians – 2002-2016 – O'Hair turned the Indians into a smashmouth football powerhouse and won three championships in the process in 2006, 2007 and 2014.
O'Hair completed one last successful season with the Indians in 2016 before wrapping up a 26-season career, he won 78 percent of the games he coached including a 220-63 record overall and 150-30 at Andale.
The championship seeds O'Hair planted with the program are still growing today, as Andale player and former assistant Dylan Schmidt took over for his coach and is coming off the program's third straight state championship with just two losses in his five seasons as head coach.