Officers Arrest Suspect In Garden City Fatal Stabbing
KSCB News - April 13, 2011 3:22 pm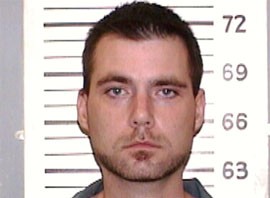 On Tuesday, April 12, 2011, detectives with the Garden City Police Department obtained an arrest warrant for 31-year-old Fred Schmidt Jr., of Garden City for his involvement in a stabbing incident that happened in late March.
Schmidt and 25-year-old Jeffrey Nichols were involved in an altercation with one another on March 29th that ended in both men being stabbed. Schmidt received a minor wound and transported himself to the hospital where he was treated and released.
Nichols was found dead in a yard near where the stabbing occurred.
Assistance from the Wichita Police Department was requested and they arrested Schmidt at approximately 3:30 p.m. in the 1900 block of N. Woodchuck in Wichita.
Schmidt was brought back to Garden City where he was lodged in the Finney County Jail on allegations of murder in the 2nd degree, possession with the intent to sell hydrocodone, possession with the intent to distribute alprazalom, and use of a communication facility for drug transactions.