Offense Comes Alive in Seward Win at Garden City
Brock Kappelmann - February 9, 2023 6:51 am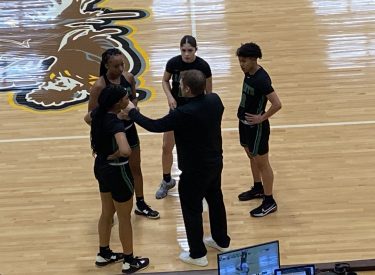 The Seward Lady Saints shot 53 percent on the way to an 83-71 win over the Garden City Lady Busters Wednesday night in Conestoga Arena in Garden City.  Seward made 10 of their 24 three point attempts in the win.  D'Arrah Allen scored a career high 34 points in the win.
Seward led 21-20 after one quarter.  Seward took second quarter leads of 29-22, 33-25, 37-29, and led  41-32 at halftime.  Seward took hold of the game early in the third quarter.  Seward led 53-38, 60-46, and led 67-53 after three.  Seward led by as many as 16 at 74-58 with 7:19 to play.  The Lady Busters cut the lead to six and 77-71 with 2:15 remaining.
Seward's shooting helped them overcome 19 turnovers.  SCCC held GCCC to 36 percent shooting while Garden shot 6-23 from three and 19-36 from the free throw line.  SCCC was 9-14 at the foul line.  Seward out rebounded Garden City 36-34.
D'Arrah Allen poured in 34 points on 12-20 shooting.  Tiana Winn had 12 points and six rebounds.  Bri Linnear scored a career high 13 points.  De'Shawnti Thomas had eight points, 15 rebounds, and eight assists.
Seward sweeps Garden City for the first time since 2020.  The Lady Saints improve to 13-12 overall and 11-8 in the Jayhawk.  Garden City is 8-16 overall and 4-14 in the Jayhawk.  Seward hosts Cowley for Homecoming Saturday at 2pm with Saints Shoot-around at 1:45 on 107.5.  The Saints Hall of Fame will also add three members in between games.  Equity Bank is the buyout sponsor.