Odessa Takes Two Over Saints
Brock Kappelmann - February 15, 2020 6:19 am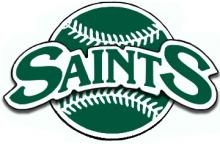 Kenny Hernandez
ODESSA, Tex.- Seward County Community College baseball team still search for their first win of the season as they lose to No. 18 Odessa College in a double-header 7-5, 9-5 and fall to 0-6 on the season. Each time the Saints tied or took the lead in the games the Wranglers responded with runs of their own in the bottom of that same inning.
First Game
In the top of the first inning, AJ Folds singled to left-center to start a two-out rally. KP Werner followed suit with a single to left field and Wyatt Grant came up with a double to score both base runners. With a 2-0 lead after the top of the first inning, Odessa responded with two runs of their own to tie the game at 2-2.
In the fifth inning, Zane Alexander started things off with a single to right field and with a couple of fielder choice decisions, Alexander scored. This gave Seward a 3-2 lead but at the bottom of the fifth inning, Odessa scored five runs on five hits take a 7-3 lead. This is the separation that lasted for the entire game.
Joseph Wolf got the loss from the mound with 4 innings pitched eight runs and eight hits. The Wranglers Nick Ellis received the win with 4 innings pitched, 3 runs, and 7 hits.
Second Game 
To start the game the Saint trailed 2-0 after the first two innings while they gave up two solo home runs in both innings. Seward claimed the lead in the third inning with 3 runs on four doubles. Odessa answered to tie it back up in the bottom of the third with a triple by Lennin Ashley and an error to score from third. 
The fourth and fifth innings belonged to the Wranglers as they added four more runs on three hits. With an 8-3 lead after the fifth inning, the Saints were unable to reclaim the lead but out hit Odessa 12-11 for the game.
Peter Goldy received the loss from the mound with four innings pitched, eight runs, and seven hits. The Wranglers Collin Horton got the win in six innings pitched, 4 runs, and eight hits.
Seward will be back in action with another true road test as they take on Midland College tomorrow at 1 PM.