Odessa Overwhelms Seward in Midland
Brock Kappelmann - November 17, 2019 10:10 am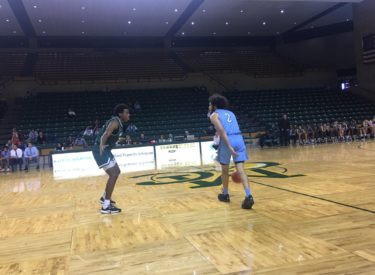 The freshman oriented Seward County Saints played like freshmen Saturday.  Odessa, who won the WJCAC and won a game in the NJCAA tournament last year beat Seward 70-52 Saturday afternoon at the Chaparral Center in Midland.
Seward threw the ball all over the spacious Chap Center committing 26 turnovers while being out rebounded by seven. Seward made just two of 15 three point attempts. Odessa jumped out on Seward 10-0.  SCCC cut into the lead and trailed just 18-16 but  Odessa led SCCC 29-18 at the half.  The Wranglers came out with their hair on fire early in the second half taking a 43-22 lead with 15:36 to play in the second half.  The game was never close again.
Bee McCrary led the Saints with 15 points.
Seward is 4-1 and Odessa is 5-3.  Seward plays at the Hesston JV on Thursday.  They open Jayhawk Conference play against Butler November 26 at 7 pm in the Green House.  The Butler game airs on 107.5 and kscbnews.net.