Robert Walter "Bob" Clingan
Joe Denoyer - March 1, 2020 9:36 pm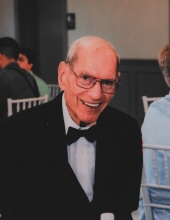 Robert Walter 'Bob' Clingan, 91, of Sun City, AZ, passed away February 21, 2020. He was born June 6, 1928 to Walter Marshall Clingan and Ruby Estelle Clingan, in Clarksville, Ar.
At the age of eighteen after graduating from Russellville High School, Russellville, AR., Bob joined the United States Naval Construction Battalions in 1946, better known as the Navy Seabees. Bob served in Atu, Alaska as a member of the Seabees, during World War II.
He later graduated from Oklahoma State University.
Upon graduation from OSU, Bob began his career with Goodyear Tire & Rubber Co.
Driven by his entrepreneurial spirit Bob later founded & developed Clingan Tires, Inc., of Liberal, KS.
Bob met his future wife and "For Life Mate," Margaret Coles while in college. They married on July 27, 1950, and were married 69 years. Their marriage was blessed with three wonderful loving children Robert Walter Clingan, Jr. Liberal, KS., Melinda K. Wills (Jim),
Sun City, AZ., and Frank Randal Clingan (Tami) Mission Viejo, CA.
He leaves behind grandchildren; Mandy Scholz, Manhattan, KS., Jesse Clingan, Nashville, Tn., Lindsay & Dan Newton, Manhattan, KS., Ramey & Gregg Colgan, Colleyville, Tx., Todd & Shala Wills, Augusta, KS., Ty & Charlotte Wills, Durango, Co., Morgan Wills, Manhattan, KS., Drew & Lauren Wills, Kansas City, KS., Heather & Mike Eggli, San Diego, CA.
Our father, grandfather and husband left this world knowing that he instilled in all of his descendants by his example; a love of life and a devotion to the principal of, "Do unto others as you would have them do unto you." When he passed to his eternal life in Heaven Bob left behind a loving wife, Margaret Clingan and many friends.
Visitation will take place Friday, March 6th from 8-9 AM at Menke Funeral & Cremation Center followed by a graveside service at 10:00 AM at The National Cemetery of Arizona, 23029 N. Cave Creek Road, Phoenix, AZ. 85024
In lieu of flowers the family suggests honorary recognition gifts be sent to the Liberal Area Rape Crisis Center, 111 East 2nd St., Liberal, KS. 67901, or the organization of your choice.