June Salibury
Steven Rains - August 19, 2019 9:14 am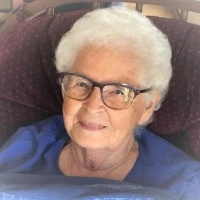 June Salisbury, 85, passed away Friday, August 16, 2019, at her residence in Coldwater, KS. Born July 12, 1934, at Durango, CO, she was the daughter of Artie Marvin and Mary Della (Havens) Killgore.
On July 23, 1950, she married Charles Otto Salisbury at Aztec, NM.
June was a seamstress by trade and created many beautiful creations. She taught three generations to sew and to dread the seam ripper. She was also known for being a great cook and was famous for her cinnamon rolls and special chocolate pie. June was known by many as Grandma and will forever hold a beautiful place in their hearts.
June is survived by her husband: Chuck Salisbury of Coldwater, KS; six daughters: Glinda Faye Weddle (Lewis) of Casa Grande, AZ, Cinda Louise Valentine (Luke) of Aztec, NM, Brenda Joyce Fry (John) of Coldwater, KS, Patricia Sue MacCausland (Richard) of Coldwater, KS, Marda Jeanette Hastings (Brian) of Jetmore, KS, and Charda Merelene Sanders (Bryan) of Aztec, NM; one sister: Jane Shorter of Aztec, NM; 20 grandchildren; 28 great-grandchildren and numerous others maybe not by blood, but by love; and numerous nieces, nephews, and other relatives.
She was preceded in death by her parents, one sister: Julia Coffey; and six brothers: Veral, Don, Von, Robert, Marvin, and Eddie Killgore.
Calling times are from 1-7 p.m., Monday, August 19, 2019 (Family Will Greet Friends from 5-7 p.m.) at Hatfield-Prusa Funeral Home in Coldwater, KS.
Funeral service is at 2:00 p.m., Tuesday, August 20, 2019, at First Christian Church in Coldwater, KS, with Pastor Caleb Palmer presiding.
Burial will follow the funeral service at Crown Hill Cemetery in Coldwater, KS.
A memorial service will be held Saturday, October 26, 2019, at the First Baptist Church in Aztec, NM.
In lieu of flowers, memorials are suggested to New Mexico Baptist Children's Home & Family Ministries in care of Hatfield-Prusa Funeral Home, P.O. Box 417, Coldwater, KS 67029.