Oath of Allegiance to be Administered Friday in Wichita
Joe Denoyer - February 18, 2021 8:33 am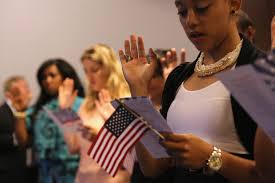 U.S. Citizenship and Immigration Services and the U.S. District Court of Kansas will welcome 40 new U.S. citizens Friday at Wichita State University. District Judge Eric Melgren will preside, and a clerk of the court will administer the Oath of Allegiance.
The citizenship candidates originate from 18 countries: Canada, Cuba, Burma, El Salvador, Ethiopia, Fuji, Guatemala, Haiti, India, Iraq, Mexico, Nepal, Nicaragua, Nigeria, Rwanda, Somalia, Syria and Vietnam.
The citizenship candidates live in Copeland, Dodge City, Garden City, Goddard, Greensburg, Hays, South Hutchinson, Liberal, Montezuma, Park City, Salina, Ulysses, and Wichita.