Oakden and Mawhinney Named All Conference
KSCB News - May 5, 2015 12:26 pm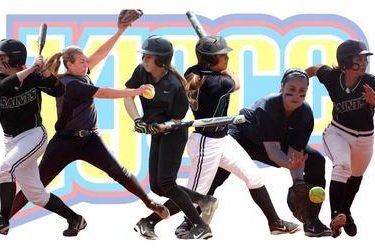 Following a 36 win season that included a 2nd place finish in the Jayhawk West Conference race, six Seward County Lady Saints were named to the All-Jayhawk West Team as released by the league on Monday.
Sophomore catcher Vanessa Oakden was a 1st Team All-Jayhawk West selection by the league's coaches. Oakden had a big second year for the Lady Saints, far and away leading the team in both home runs with 9 and RBI's with 57 on the year. Her 9 longballs ranked 6th in the Jayhawk Conference while her 57 driven in were 4th best. Maybe more impressive than her offensive numbers was her work behind the plate in 2015. Oakden started 60 or 61 games at catcher for the Lady Saints this year including the final 56 straight.
Joining Oakden on the 1st Team was freshman utility player Jaidyn Mawhinney. Mawhinney was the Lady Saints top average hitters as a rookie in 2015, batting .421 with a team best 88 hits on the year. Mawhinney also led Seward in runs scored with 52 and was 2nd on the team with 15 stolen bases. Her .421 average was 5th best in the Jayhawk West this season and her 88 hits tied for the league lead. Mawhinney had hits in 51 of Seward's 61 games on the year including a season long 14 game hit streak in mid-March.
Right handed pitcher Jaclyn Wagner was a 2nd Team All-Jayhawk West pick. Wagner led the Jayhawk West in wins during her sophomore season, going 19-9 in 2015. She pitched in a team high 33 contests, starting 30 and going the distance 21 times. She logged 170 1/3 innings in 2015 which ranked 3rd in the West while posting a 3.29 ERA which ranked 7th. Her best stretch of the season came in late March and early April where she went 5-0 in a five games, posting a 0.67 ERA in the process. Three times during her sophomore season Wagner was named the Jayhawk West Pitcher of the Week.
For the second straight year Danielle Orr was named a member of a Jayhawk West All-Conference Team, last year it was 1st Team at 3rd base, this year it was 2nd team at shortstop. Orr finished 2nd on the team with 40 runs driven home this season while leading the Lady Saints in triples with 4. Orr hit .261 in 184 at bats, also notching 11 doubles which was 3rd on the team and cracked a pair of home runs. She was one of four Lady Saints to start all 61 games in 2015, starting the year at 3rd base before sliding over to shortstop early in the season.
Joe Ann Rapoza was one of two Lady Saints named 2nd Team in the outfield. Rapoza turned it on at seasons end, finishing the year hitting .349 which was 4th best on the team while roping a team high 12 doubles and driving in 22 runs. Rapoza capped her Seward County career with hits in 11 straight games including all five Lady Saint games of the 2015 Region VI Tournament. Rapoza started and ended the season as Seward's every day centerfielder, getting the nod in all 61 games in center for the Lady Saints.
Rapoza's outfield mate Kolby Hamilton was also a 2nd Team All-Jayhawk West pick for Seward. Hamilton had an outstanding freshman season for the Lady Saints, finishing the season hitting .385 which was 2nd on the team while racking up 75 hits and 44 RBI's which also ranked 2nd. Hamilton drove home 24 runs from the two hole for Seward and stole 14 bases which was 3rd best on the team. Hamilton started the final 60 games in left field for Seward, picking up hits in 47 different games. Her best string of the year came in late March and early April when she hit safely in 14 straight games and after an 0 for 2 contest, continued her hot streak by hitting in nine more straight games into late April.
Seward's six players on the All-Jayhawk West teams were second most behind West champs Butler who had seven. Former Lady Saint and current Garden City Head Coach Becky Gundy (Holland) was named the Coach of the Year in the conference while Barton's Erica Harper was the Most Valuable Player and Megan Wurts of Butler was the Freshman of the Year.
Roy Allen