Nuefeld Announces Candidacy For Senate Seat
KSCB News - November 12, 2010 12:00 am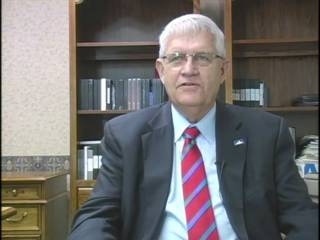 In the August primaries, 22-year-old Garrett Love pulled a major upset defeating 24-year incumbent Melvin Neufeld for the House seat in the 115th District. However, there may be another rematch in the works ?? this time for Tim Huelskamp ??s open Senate seat.
"I'm officially announcing today that I will be a candidate to replace Senator Huelskamp, ? said Neufeld, former Kansas speaker of the House.
Neufeld could be facing a familiar opponent: recent college graduate Garrett Love, who beat him back in August for the House seat.
There ??s been a lot of talk that Love is actively courting the nomination. He was not available for an interview, but in a statement said, ??I ??ve had many people encourage me to pursue Tim Huelskamp ??s open Senate seat and at this point I ??m still considering it. ?
Because the Kansas Senate is a smaller chamber, with only 40 members compared to 125 in the House, Neufeld believes experience is key for those wishing to be state senator.
"For those who haven't been through the reapportionment, it's a real dogfight and it's probably not fair to send puppies into a dogfight, ? he said.
The nominating process won ??t begin until Huelskamp sends his official notice that he is vacating his Senate seat. He has until the first week in January to do so before being sworn into Congress.