NTSB Meets to Discuss Cause of Panhandle Train Crash
KSCB News - June 18, 2013 5:58 am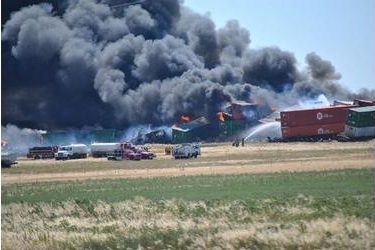 TULSA, Okla. (AP) – The National Transportation Safety Board is scheduled to meet to discuss the cause of a 2012 train collision in the Oklahoma Panhandle that killed three men.
The federal agency is to convene Tuesday morning in Washington and said in a news release that it will meet to determine the probable cause of the collision of the two freight trains near Goodwell.
Federal investigators have said previously that one of the two trains sped past three signals that were warning it to slow down or stop.
Investigators have told the NTSB that an eastbound Union Pacific train passed a siding at 68 mph just prior to the June 24, 2012, collision – instead of slowing as another of the Omaha, Neb., railroad's freight trains approached from the opposite direction.