Not Enough Magic for Maize
Brock Kappelmann - November 4, 2023 7:39 am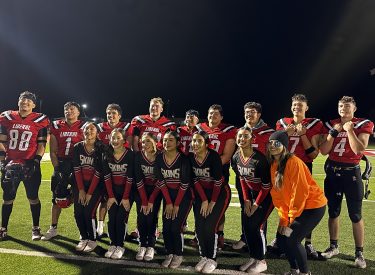 The comeback was on.  Redskin Field was alive as it has been all season.  Brooks Kappelmann spirals were adorning the night sky into the arms of sure handed receivers.  Xavier Porras galloped behind the thunderous herd of road graders on Liberal's offensive line.  There were tackles for loss and relentless enthusiasm from the Angry Red defense who created two turnovers.  But this time, the Redskins were a few plays shy.  The Maize Eagles defeated the Skins 35-26 in the second round of the 5A playoffs.  There were hugs and there were tears.  Then the lights went out, and best season in two decades was over.  The harsh reality of football in November.
Liberal struck first.  Erek Lira pounced on a Maize fumble at the Maize 20.  Xavier Porras ripped off an 18 yard run.  His two yard score into the north endzone gave the Redskins a 7-0 lead after the Marco Alonso PAT with 5:29 to play in the first quarter.  Maize's Jaedin Martin returned the ensuing kick off 80 yards for a touchdown.  It was 7-7 after one quarter.  Maize's Mason Teague kicked a 30 yard field goal with 10:01 to play in the third to a 10-7 Eagle lead.  Maize quarterback Drew Kemp lofted a 35 yard touchdown to Jaedin Martin in the northwest endzone for a 17-7 lead.  Liberal scored before half on a 14 yard run by Xavier Porras with 56 seconds remaining in the half.  Liberal missed the PAT.  Maize moved to ball into Liberal territory but Maize missed a 43 yard field goal.  It was 17-13 Eagles at the half.  Liberal's best drive of the game may have been their first drive of the second half which culminated in a Brooks Kappelmann 7 yard TD pass to Zayden Martinez as Liberal took a 20-17 lead with 6:32 to play in the third.  Aidan Schwindt high pointed an interception in the northwest endzone with 2:50 to play in the third.  Liberal led 20-17 after three.  Augie Fast ran in a three yard score with 10:26 to play and Maize grabbed a 24-20 lead.  Liberal came back when Brooks Kappelmann threw a 65 yard touchdown pass to Zayden Martinez.  The PAT missed an Liberal led 26-24.  Maize qb Drew Kemp lofted a 53 yard touchdown pass over the top to Bryson Hayes and Maize got the two point conversion to lead 32-26 with 7:19 to play.  Liberal advanced deep into Maize territory but couldn't convert a 4th down play.  Maize marched the other way and burned Liberal's two remaining time outs.  Teague kicked a 32 yard field goal to ice it with 33 seconds left.
Liberal amassed 438 yards of offense and rushed for 77 net yards.  Brooks Kappelmann was 24-38 for 361 yards and two touchdowns.   Zayden Martinez caught eight passes for 142 yards and two touchdowns.  James Fieser had six catches for 108 yards and Aidan Schwindt had six catches for 101 yards.  Brooks Kappelmann and Zayden Martinez finish second in Redskin history in passing yardage and receiving yardage in a career trailing only Britton Abbott and Trenton Hammond.   Kappelmann joins Abbott as the only Redskin qb to throw for over 2,000 yards in a season and Martinez joins Trenton Hammond as the only 1,000 yard receiver in a season.
Maize was a +15 in special teams with a kick return for a score, two field goals, and Liberal missed two PAT's.
Maize is 5-5.  Liberal finishes 8-2 with their most wins since 2004 (8-3) and their best winning percentage since going 9-2 in Gary Cornelsen's last year of 2003.