Northwest Tech Shrugs Off Saints Strong Start
Brock Kappelmann - February 17, 2023 12:32 am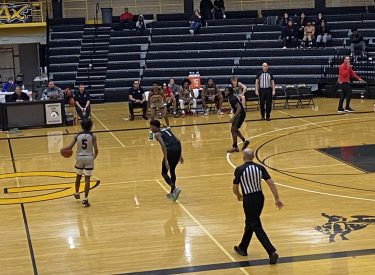 The Seward County Saints came out ready to play basketball Thursday night at Max Jones Field House in Goodland.  Seward led for most of the first half but couldn't string together enough stops in the second half of a 79-71 loss at Northwest Tech.  It's Seward's second loss in the last three years in Goodand.
The Saints got off to leads of 10-2, 13-4, 17-8, 21-11, and 24-13.  The Mavericks used a 13-2 run to tie the score at 26-26.  The Mavs led 32-30 at halftime.  Northwest Tech quickly used a 9-2 run to begin the second half and lead 41-32.  The Mavericks led 59-49, 61-50, 64-52, and 72-60 for their biggest lead of the game.
Northwest Tech shot 49 percent and connected on 9-19 from three point range and 16-25 at the free throw line.  Seward had a solid shooting game hitting 46 percent.  The Saints were 6-20 from three and 5-11 from the foul line.  The Saints committed 17 turnovers in the loss.
Blessin Kimble led the Saints with 15 points and 10 rebounds.  Wilson Dubinsky scored 14 points.  Nathan Jones scored 11 and was the Epic Touch Player of the Game.  Jaylin Henderson scored 10 and Mario Whitley had 10 points and nine rebounds .
The Saints fall to 13-14 overall and 9-12 in the KJCCC.  Northwest Tech is 10-16 and 5-15 in the Jayhawk.  Seward plays at Barton Saturday on B107.5.