Northerns Wins KU Book Prize
Joe Denoyer - September 16, 2021 8:22 am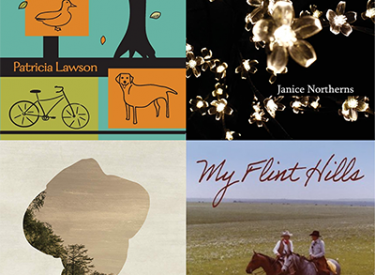 Janice Northerns of Liberal has been named the winner of the 2021 Byron Caldwell Smith Book Award for poetry, the Hall Center for the Humanities at the University of Kansas announced Wednesday.
The awards are given in three categories: fiction, poetry and nonfiction.
Northerns received the award for her debut poetry collection, Some Electric Hum (Lamar University Literary Press, 2020), which was also recently named a 2021 WILLA Literary Award Finalist in Poetry. Northerns has lived in Liberal with her husband, Bill McGlothing since 1998. She taught at Seward County Community College for a number of years before retiring in 2019 to spend more time writing.
Some Electric Hum disentangles the gnarled branches of a family tree into poems of complicated love and endurance. Deeply engaged with place, these poems range across Texas to Kansas to hold up the objects and people that create a personal history and "grapple with words just west of the tongue."
The winners will receive their awards and deliver brief remarks about their award-winning books at a public presentation, book signing and celebratory reception at the Hall Center for the Humanities at the University of Kansas. That event, which is free and open to the public, would normally take place later this fall, but due to the current surge in COVID-19 infections, it will take place instead in 2022. The date and time will be announced at a later date.
The Byron Caldwell Smith Award was established at the bequest of Kate Stephens, a former KU student and one of KU's first women professors. As an undergraduate, Stephens learned to love the study of Greek language and literature from Professor Byron Caldwell Smith. She established this award in his name. It is given biennially to individuals who live or are employed in Kansas and who have written an outstanding book published in the previous two years. The next Byron Caldwell Smith Awards will be given in 2023.
The other 2021 awardees are as follows:
For Fiction:
Patricia Lawson, "Odd Ducks" (BkMk Press, 2020)
This debut collection of nine humorous stories, set in and around Kansas City from the 1950s to the 2000s, often depicts adults awkwardly mentoring talented young people, whether in a community garden, a library or in one-on-one advice. Other characters feel like outsiders in their own neighborhoods or suddenly become outsiders when straying into unfamiliar places. Patricia Lawson's work has appeared in Pleiades, The Dalhousie Review, New Letters and elsewhere. She taught for many years at Kansas City Kansas Community College and was an associate editor of The Same. "Odd Ducks" is her solo fiction debut.
For Nonfiction (shared):
Jim Hoy, "My Flint Hills: Observations and Reminiscences from America's Last Tallgrass Prairie"(University Press of Kansas, 2020)
Dave Tell, "Remembering Emmett Till" (University of Chicago Press, 2019)
Jim Hoy, professor emeritus at Emporia State University, has always called the Flint Hills home, and over the decades he has made a study of them — their tough terrain and quiet beauty, their distinctive folk life and cattle culture — and marshaled his observations to bring the Flint Hills home to readers in a singular way. "My Flint Hills: Observations and Reminiscences from America's Last Tallgrass Prairie" combine family lore and anecdotes of ranching life with reflections on the region's rich history and nature.
In "Remembering Emmett Till," Dave Tell, KU professor of communication studies, gives five accounts of the commemoration of the infamous crime. In a development no one could have foreseen, Till's murder — one of the darkest moments in Mississippi's history — has become an economic driver for the Delta. Historical tourism has transformed seemingly innocuous places like bridges, boat landings, gas stations and riverbeds into sites of racial politics, reminders of the still unsettled question of how best to remember the victim of this heinous crime. Tell builds an insightful and persuasive case for how these memorials have altered the Delta's physical and cultural landscape.